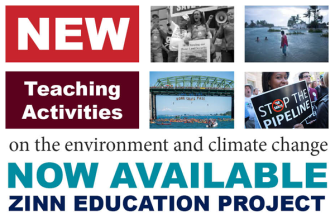 We're delighted to announce the posting of four new articles and activities on environmental justice issues. All of these are featured in the new book by Zinn Education Project co-director Bill Bigelow and Portland, Oregon teacher Tim Swinehart, A People's Curriculum for the Earth: Teaching Climate Change and the Environmental Crisis.
At a moment when the dimensions of the climate crisis are becoming more apparent, the Zinn Education Project is committed to providing teachers more resources to help students confront the causes and consequences of climate change and the broader environmental crisis. Our collective house is burning down. The least we can do is help our students understand why and consider ways to respond.
Please download these, use them, and share with colleagues.