In the wake of the murders of George Floyd, Ahmaud Arbery, Breonna Taylor, Tony McDade, and others named and unnamed, a great Uprising for Black Lives has swept the nation and the world, inciting new urgency and radical possibilities for advancing abolitionist practice and uprooting institutional racism.
These are the opening words of the recently released statement from the Black Lives Matter at School movement's call for a Year of Purpose in fighting racism.
The Year of Purpose has two major components:
Educators — and parents who have been pressed into educating their kids at home due to COVID-19 — are called on to answer a series of reflection questions that help them better analyze their pedagogy with respect to anti-racist practices.
Educators, students, parents, and community members are called on to organize for a day of action during every month of the school year that will highlight different aspects of the BLM at School movement.
Continue reading Jesse Hagopian's article "How you can help Black Lives Matter at School" to learn ways that educators, parents, students, and anti-racist organizers can support the Year of Purpose and support Black students. Continue scrolling down to find materials to engage your students in the year of purpose with people's history.
---

Teaching Guide: Teaching for Black Lives
Teaching for Black Lives provides practical resources and shows how teachers connect curriculum to young people's lives and root their daily experiences in what is taught and how classrooms are set up.
Teaching for Black Lives is edited by Dyan Watson, Jesse Hagopian, and Wayne Au. Published by Rethinking Schools.
---
Teaching Activities
---
Teach People's History Remotely
In this guide by Ursula Wolfe-Rocca, the Zinn Education Project offers suggestions and resources for teaching people's history remotely.
Find links to our free people's history lessons adapted for remote teaching on that page, too.
---
Teaching for Black Lives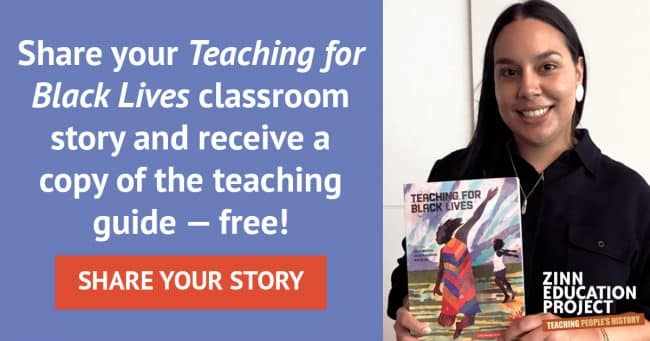 Share your experience teaching any lesson from the Rethinking Schools book, Teaching for Black Lives, and we will send you a free copy.
This offer is made possible by the contributors to the Teach the Black Freedom Struggle campaign.