"Who here would have been against slavery if you suddenly found yourself living in those times?"
I've asked a version of this question to many U.S. history classes over the years.
Every student raises a hand.
"So what exactly would you have done to end slavery?"
Puzzled looks are generally the response to this question. What should we do, what can we do, when we are confronted by the enormity of an injustice like slavery? It's not an easy question for my students, and it wasn't an easy question for the people who opposed slavery in those times. The answers were struggled over in the abolition movement, one of the most significant social movements in U.S. history, but underappreciated in today's history curriculum.
. . . .
I created a role play in which every student in class portrayed a member of the American Anti-Slavery Society (AASS). As the AASS, the class would encounter some of the difficult strategic choices that confronted the actual organization throughout its history. I'd be present as teacher to observe and take notes, but I would play no role in their deliberations.
. . . I distribute a handout with five strategic dilemmas that faced the AASS at different points from its founding in 1833 until 1858:
• Should the AASS support "colonization" schemes to send people freed from slavery to Africa?
• Should the AASS spend time and money opposing racial discrimination in the North as well as attempting to end slavery in the South?
• Should the AASS support efforts to gain greater equality for women?
• Should the AASS support armed attempts to resist enforcement of the Fugitive Slave Act?
• Should the AASS support John Brown either with guns or money?
These were actual historical dilemmas, although I took some liberty in suggesting that they were each debated in an assembly of AASS members.
---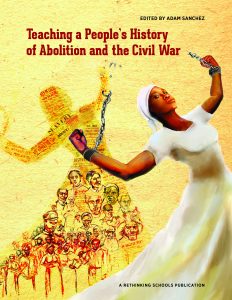 This lesson was originally published in the Summer 2010 edition of Rethinking Schools magazine and is one of 10 lessons in the 2019 Rethinking Schools publication Teaching a People's History of Abolition and the Civil War, edited by Adam Sanchez.
"A valuable blueprint for teaching the history of abolitionism and the end of slavery. . . . Coming at a moment of activism by modern descendants of the struggle for freedom, the book could not be more timely." — Eric Foner, DeWitt Clinton Professor Emeritus of History, Columbia University and author of The Fiery Trial: Abraham Lincoln and American Slavery
---