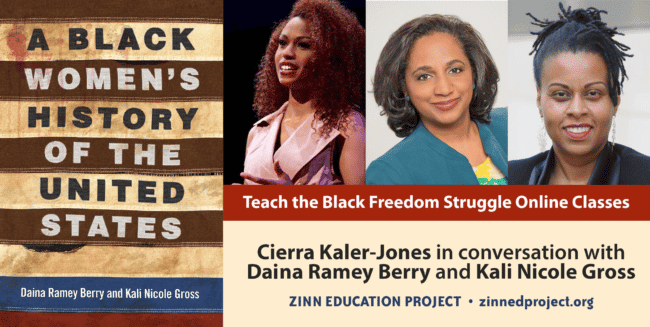 Over 300 educators, organizers, parents, and students joined the Zinn Education Project's Teach the Black Freedom Struggle class on March 8, 2021 (International Women's Day) for a conversation between the authors of A Black Women's History of the United States (Daina Ramey Berry and Kali Nicole Gross) and Education Anew Fellow Cierra Kaler-Jones.
Here are a few reactions from the participants:
One of the most important ideas that were reinforced was the agency of Black women in the Americas from the 1500s to the present. There is a continuous lineage of Black women who fought for themselves and their communities to have better lives.
I appreciated the conversation and discussion around removing women from the margins and boxes of earlier textbooks in the process of centering them in history.
I did not realize how much of the Black perspective I used in the classroom was from the Black male perspective and left out such a key component of the Black experience in America by not directly placing Black women as central roles rather than a tangible connection.
I've been forced to sit through so much PD that has been derivative, repetitive, or basic. Not this. This class really helped address issues I've been wanting more education/training on that I can apply to my classroom!
The history of Black woman is the history of how our country has failed to protect us. However, it is a roadmap to resistance and a framework of where this country needs to go moving forward.
Black women's history starts before 1619 and starts with freedom, not slavery.
Harriet Scott's story — as a highlight of how often women, and women of color, are REMOVED from stories.
I loved the way that Dr. Berry and Dr. Gross brought transparency and humanity in telling the stories of their collaboration and writing process.
Below, find highlights of the session, a full video recording, recommended resources, and more participant feedback.
Highlights
Here are some main points of the session from the tweet thread by Ursula Wolfe-Rocca, high school teacher and Zinn Education Project team member.
"Our goal was to show that Black people were free before they were enslaved. Quite simply that was it." — @DainaRameyBerry

— Ursula Wolfe-Rocca (@LadyOfSardines) March 9, 2021
.@_cierrajade_ asks about how Black women have been marginalized in freedom movements even as they played critical roles in organizing & sustaining them. Ex: Harriet Robinson Scott whose name did not appear on the famous case of which she was at the center.

— Ursula Wolfe-Rocca (@LadyOfSardines) March 9, 2021
Dr. Berry: Let's lift up seamstresses as artists too. She shares this link & reminds us that enslaved women who self-liberated often took the clothes they'd sewn with them when they fled. They took pride in their work. https://t.co/Z8T01B7OqF

— Ursula Wolfe-Rocca (@LadyOfSardines) March 9, 2021
"A blueprint to resist." The book is A Black Woman's History of the United States. https://t.co/2Sdk7KAs9j

— Ursula Wolfe-Rocca (@LadyOfSardines) March 9, 2021
Video
Video of the full event, except the breakout sessions.

Resources
Here are many of the resources recommended by the presenters and also by participants in the chat box.
Lessons and Guides

Related Books and Documents

People

This Day in History
Participant Reflections
Here are some of the responses by participants from the session evaluation.
What was the most important thing (story, idea) you learned today?
Harriet Robinson Scott's story just shows how textbooks perpetuate the injustice of her exclusion in the "Dred Scott case" by continuing to exclude in textbooks and classrooms.
The story of Black people does not begin at enslavement. People who came to America before slavery.
I realized how little I know about Black women's history in this country!
Stories of Isabel De Olvera, seamstresses, queer and trans folx mentioned.
I learned about the power we have to reframe the story by changing the language. "Self liberators" vs. runaways or fugitives.
Black women developed their own organizations.
There were some early arrivals of Black women in Anglo-North America seeking freedom from slavery in the Spanish Empires.
I have been concerned about making it clear to my students the history of oppression in the USA and its continued relevance today, but not only focusing on the oppression — especially at the expense of the positives and joy in the Black historical experience. So, the idea that focusing on resistance and triumph is still covering the trauma and oppression while centering Black experience; that my white students will still learn about the oppression without having to only talk about the atrocities. That said, that there are ways of focusing on the white perpetrators — like showing a lynching photo with the victim removed and focusing on the white participants.
The resources we need are out there; We just need to make sure we bring them into our schools and communities.
The importance of seeing yourself in history.
The concept of "community history" and the idea of the continuum in Black women history.
About how important Black women's STORIES are — it is stories that make history come alive.
UNBUNTU — I am because we are!!! "Black women have continued to fight at great cost"
The unknown Herstories coming to life, crucial contributions being returned to the historical record
Dr. Berry's statement: "Black women were free before they were enslaved."
Callie House (reparations efforts), Mary Colbert (nobody looked at her), Frances Thompson & Transcestry, Sankofa. Wow. So much amazing and powerful content to explore and pull into my classroom.
Black women's history shows us a blueprint for how to resist. And there isn't a time period in U.S. history that shouldn't have a Black woman's story.
I learned about the intellectually destructive ideologies that the master narrative of the Black struggle for freedom in the United States perpetuates. It erases Black women from the spotlight even though they were in every aspect of the fight for freedom.
So, so much! I just learned so many names and stories that I didn't know before this session that my head is spinning.
Harriet Scott's story — as a highlight of how often women, and women of color, are REMOVED from stories
There were SO many Black women I did not know about. What is standing out, in particular, is the story of the Tinkham Bill — fascinating!
Everyone is present in the history of Black women. The women highlighted in today's session were each so multifaceted that I know that every student in my classroom can find relatable aspects to their own life. It is all so much deeper than the skin.
Black women have always been fighting, always been activists, always been leaders.
Every story was new to me. As I shared in my breakout group, I was educated in the '50s, '60s, and '70s. I am thrilled that at least now I am learning the true history of the US. Black history is so rich, and I am eternally grateful to ZinnEdProject for the classes and your work.
The importance of telling the stories of Black women holistically, so that the beautiful and joyful is included with the ugly and violent, the free with the enslaved, personal and community agency and engagement with degradation and captivity.
I am blown away by the depth and breadth of stories of Black women available and the diligence and tenacity of the historians who collect and pass these stories on. I really resonated with and was inspired by all of the stories that seek to expand the narrative before 1619, or to add richness to narratives around the women's suffrage movement.
The queer women and the erasure of Mrs. Scott from the court case. Early court cases where Black women sued to protect themselves and to seek justice for vile offenses.
The story of the woman harassed and tormented to find out if she was "biologically a man" really stuck with me. I always am brought back to how interconnected and related women's rights, trans rights, and Black civil rights are. It can never be over-emphasized how important their roles are even today.
Telling Black women's history in the context of other Black women's history, instead of as an exception within the otherwise white, male narratives that are treated as default
The most important thing I learned was to reframe Black people are free FIRST – begin with stories pre-enslavement and emphasize the un-natural state of captivity and the ways Black people resisted and self-liberated.
The power of Black women seamstresses. The ownership of their work and just the power of those stories really spoke to me. I also appreciated learning the phrase transhistory because it gave phrasing to something we've been trying to teach in class this year.
I think It would be how rich, complex and diverse the involvement of Black women has been from the foundations of our history to our present situations; yet these narratives have been marginalized (if not attempted erasure) or co-opted by structural and cultural hegemonic forces. So many discrete examples were highlighted to showcase the collective and intersecting struggles for justice and the right to exist.
Black women are always there in history, accomplishing wonderful, inspiring, important things. Easily available books – commonly read books – may or may not (probably) won't include their stories. That's why a book like this is so important.
I learned about the historical and iconic figures that helped expand the Black women's movement and how we should not think about the pain but the power.
There were so many important stories, I felt overwhelmed. What I realize from this is that there are many ways to fit Black history in whatever I am trying to teach, and it doesn't matter how small these moments may seem, what matters most is that we start somewhere.
That the stories are there, they can be found and written about. It takes diligence.
Early court cases where Black women sued to protect themselves and to seek justice for vile offenses.
Black women have been some of the primary ones to suffer when democracy and its promises haven't been met but are also the first to continue to the struggle towards freedom in both large and small ways. I loved the term "motherhood activism" and seek to use it in my own work.
The intersectionality of race and gender is a very important space to highlight in the classroom.
What will you do with what you learned?
Pass on to my colleagues, as well as rework lesson plans/slideshows/activities for my U.S. history classes.
Incorporate more BLACK FEMALE STORIES in my curriculum; work to incorporate their voices through primary sources. Black women show where democracy has failed — how can Black women teach us how to strengthen democracy? Their resistance highlights those failures and how we must change those structures.
I'm looking forward to using Dr. Berry and Dr. Gross's book in my U.S. History classes, as a way of centering Black women's history and disrupting and expanding the dominant narrative of U.S. history.
Share with the social studies teachers at the school where I work; be refreshed by the intellectual, important, and joy-filled time with the people in the zoom tonight, share stories with students in my English classes; use the details in conversations I have with students in the hallways or during lunch duty when their misunderstandings of history and their questions arise
I teach early elementary and a big focus of mine is deconstructing the idea of social movements having one hero. I am SO EXCITED to learn more about these amazing women to pull into my lessons about people that have impacted history and supported social change throughout history
I'm looking forward to bringing some of the stories to life through theater and art next year.
I am teaching the newly adopted African American Studies course. As I am the first to teach it at my school, I am hoping to include as many voices as possible. Today's session and this book is giving me a wealth of resources!
Expand the superhero stories to be more realistic and accessible to mere mortals. Use that more complete understanding to empower.
I will read the book! I will incorporate more essential stories of Black women into the biographies I present to teach American history.
Most immediately, I am currently planning a unit on art and activism and I'm excited to share the works of all of the Black women shared tonight.
I will use the book to supplement my anchor text of A Young Peoples History.
I am an English teacher. I teach a racial stereotype analysis project during unit 1 sparked by Chimamanda Adichie's "The Danger of a Single Story." I teach on the origins of race in the context of the land that is now the U.S. to scaffold how to analyze who is materially harmed by racial stereotypes, who benefits from racism, and how they benefit. I usually start in the early 1600s when some Black people occupied positions similar to indentured servitude in the colonies, then I teach how laws changed to make slavery hereditary/matrilineal and the aftermath of Bacon's Rebellion caused white enslavers to tighten the laws and make "racial bribes" so poor whites wouldn't unite in solidarity with Black people. (I use a Zinn Ed resource for this as well as Michelle Alexander's The New Jim Crow.) Now, however, I'll back up more to emphasize Black freedom first, pre-1600, like the speakers talked about in the talk today. I'll also speak more about how Black women resisted (such as with headwraps) and fought for bodily integrity and freedom, since I tend to emphasize the mass rape part of Black women's enslavement without saying much else about Black women specifically. I've also ordered a copy of the book to inform this work.
I will continue to develop and share my knowledge and resources in black history, social justice, and anti-racist education, with those around me. I can in to my lessons. As an example when teaching American symbols to my 1st graders I can bring up Grace Wisher.
It will be folded into the Women's History Month unit we are working on now in freshman English and in next month's poetry unit. I have the reins. . . so it is going to be done!
Read the book, report out to my colleagues about the book and class, find ways to weave in these stories to my curriculum
I will share this with my kindergarten grade level team and the students and families in my classroom.
As a museum educator, I want to pull more stories of Black women to the forefront of my work with students and educators. I also want to be more intentional about where the stories of LGBTQIA+ females is illuminated in my work.
What did you think of the format?
I thought the format was perfect. I only wish we had more time because it went by so quickly. The mid-breakout sessions were nice. I was surprised the groups could be so small given how many people were on. It was fantastic! We could actually have a conversation
All was excellent. I'm so grateful for breakout rooms — not just the opportunity to chat but also that you model the need for learners to process material in order to actually learn.
It was good to talk with people. It reminds me that there are lots of social justice people out there and it is important to connect with and draw from each other's optimism, knowledge, strength and sense of purpose. It could be helpful to know the questions a little more ahead of time but I may feel that way because it's late in Maine! Perfect amount of time for breakout room.
Everything worked! The ability to reflect on the workshop was indeed refreshing and enlightening! I absolutely love using the chat to share resources! I saved every link and my goal is to share each resource with my teachers! Thank you!!
I have come to a bunch of Zinn sessions. I really appreciated having two (really three) speakers tonight — the exchanges and way Dr. Gross and Dr. Berry played off each other's comments was superb. And educational!
This was my first ZinnEd program. I really enjoyed all of it.
I appreciated the exchange between Dr. Berry and Dr. Gross. Their conversation was so full.
Liked the suggestion to put questions in the Chat in all caps, made it easier to see and find them.
I enjoyed the opportunity to process the topic in small groups.
Cierra's questions + the quotes she selected from the book were awesome! I loved the way this session had questions from very specific details in the book. I also really appreciated the way the presenters shared their story of writing the book + their strategies for staying healthy for the long struggle we continue.
This was the first Zoom breakout room that I've done in such a large setting that actually worked, and it broke up the format nicely.
The warning of the breakout room time being too short proved true. However, this is not a criticism or recommendation to change the time as it served to both: make me want to hang out with a group like this mine more and helped me appreciate the gravity of what we were just taught.
I thought the format was really wonderful. The ability to go into breakout rooms really allows for closer conversation with a few people who have had the same experience. The time was a good amount for the number of people.
Additional Comments
Even more important than the book and the stories in it, to me, is the story of how the book was written and the example in the class itself of collaborative scholarship by Black women to tell our own stories in our own ways.
Thanks for continuing to do these sessions. Not just informative but also inspirational.
Thank you, this was a wonderful opportunity to connect with scholars, peers, and a community leading work for social justice and equal representation in history.
Thank you. Amazing from the content to the work of two fantastic scholars
I could spend a lot more time listening to these women. Thank you for the opportunity to learn and grow. Peace!
It was a great session. I have invited two of my teachers to join this series.
Thank you for this INCREDIBLE scholarship. It is important, tragic, and inspiring.
Thank you for this wonderful lesson. This will not be my last class.
Trans-cestry, Black and Latinx history. . . This is so important to explore, thank you.
I would love to attend a class by Cierra Kaler-Jones about her use of art.
Thank you so much! This was my first Zinn class, but if they are all like this, I will be in every one of them!
I loved the way that Dr. Berry and Dr. Gross brought transparency and humanity in telling the stories of their collaboration and writing process.
I have a persistent question about authenticity in telling others' stories, as a "white" woman, and how do I move toward that the best I can. I can see that vulnerability is a big part of how that can happen, and that it will keep evolving as I do.
I am both inspired and saddened by this presentation. How differently would our country be if we had learned this part of our history growing up. . .that the stories we heard today were just as common as the midnight ride of Paul Revere? How differently would our society treat Black women? How differently would society treat all women? How differently would our babies see themselves? I am inspired by the work of Dr. Berry and Dr. Gross, and I thank you.
Presenters
Daina Ramey Berry is an award-winning history professor at the University of Texas at Austin. As "a scholar of the enslaved" and a specialist on gender and slavery as well as Black women's history in the United States, she is the associate editor for The Journal of African American History.
Kali Nicole Gross is a professor of African American Studies at Emory University and the Martin Luther King Jr. Professor of History at Rutgers University. Her primary historical research explores Black women's experiences in the U.S. criminal justice system.
Cierra Kaler-Jones is the Education Anew Fellow at Teaching for Change through the Communities for Just Schools Fund. As a Ph.D. student, her work examines how Black girls use arts-based practices (such as movement and music) as forms of expression, resistance, and identity development.