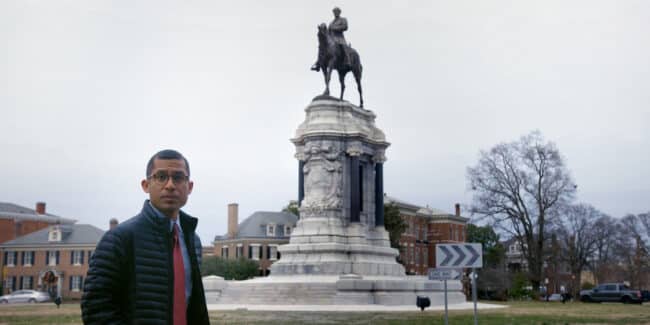 Middle school teacher, stand-up comic, and Daily Show correspondent C.J. Hunt has made a brilliant, poignant — and, yes, funny — film about the movement to pull down monuments commemorating the Confederacy.
Hunt begins in New Orleans, with the debate about removing four Confederate monuments: "You can't scream Black lives matter if you live in a city where everything around you is telling you that they don't," explains Quess Moore of the Take "Em Down NOLA coalition.
But to understand where the monuments came from in the first place, Hunt takes us on a tour of the Lost Cause — the elaborate mythology created after the Civil War "to change the narrative of defeat to one of celebration and honor," in the words of historian Karen Cox, author of Dixie's Daughters: The United Daughters of the Confederacy and the Preservation of Confederate Culture. Although Reconstruction was a moment of hope and democratic possibility for the once-enslaved African Americans, their former enslavers were determined to maintain white supremacy. As Hunt describes: "It is this moment of racial backlash and terror. This is the moment public  Confederate monuments are born."
But The Neutral Ground is no tiresome talking-head video. Hunt takes us to Camp Moore for a Confederate reenactment; to the Whitney Plantation, where slavery is remembered from the standpoint of the enslaved; to confrontations between monument defenders and anti-monument demonstrators; to the terrifying neo-Nazi demonstrations in Charlottesville; and even into his father's kitchen, where his dad needles Hunt to rethink his own racial history.
Ultimately, this wonderful classroom-friendly film is a testament to activism, to organizing. As Hunt remarks: "When you witness century-old statues of slave owners finally come off their pedestals, you start to feel like maybe anything is possible." [From review in Rethinking Schools.]
A review in The Grio notes,
Harrowing, smart, and bitterly funny, Hunt's documentary The Neutral Ground confronts the Lost Cause — the Southern campaign that mythified the Confederacy — with refreshing clarity. With New Orleans as the main backdrop of the story, the film expands its scope to the country at large, bringing to light the fabricated histories born out of the Civil War and the hard truths much of America has yet to face about slavery. Throughout, Hunt's radical openness leads to staggering, often personal conversations with advocates and opponents of Confederate monuments alike.
For more information, visit Neutral Ground.
A co-production of POV and ITVS, in association with the Center for Asian American Media. A co-presentation of Black Public Media and the Center for Asian American Media. Official Selection, Tribeca Film Festival.
Below are lessons and readings that could be used in conjunction with the film.