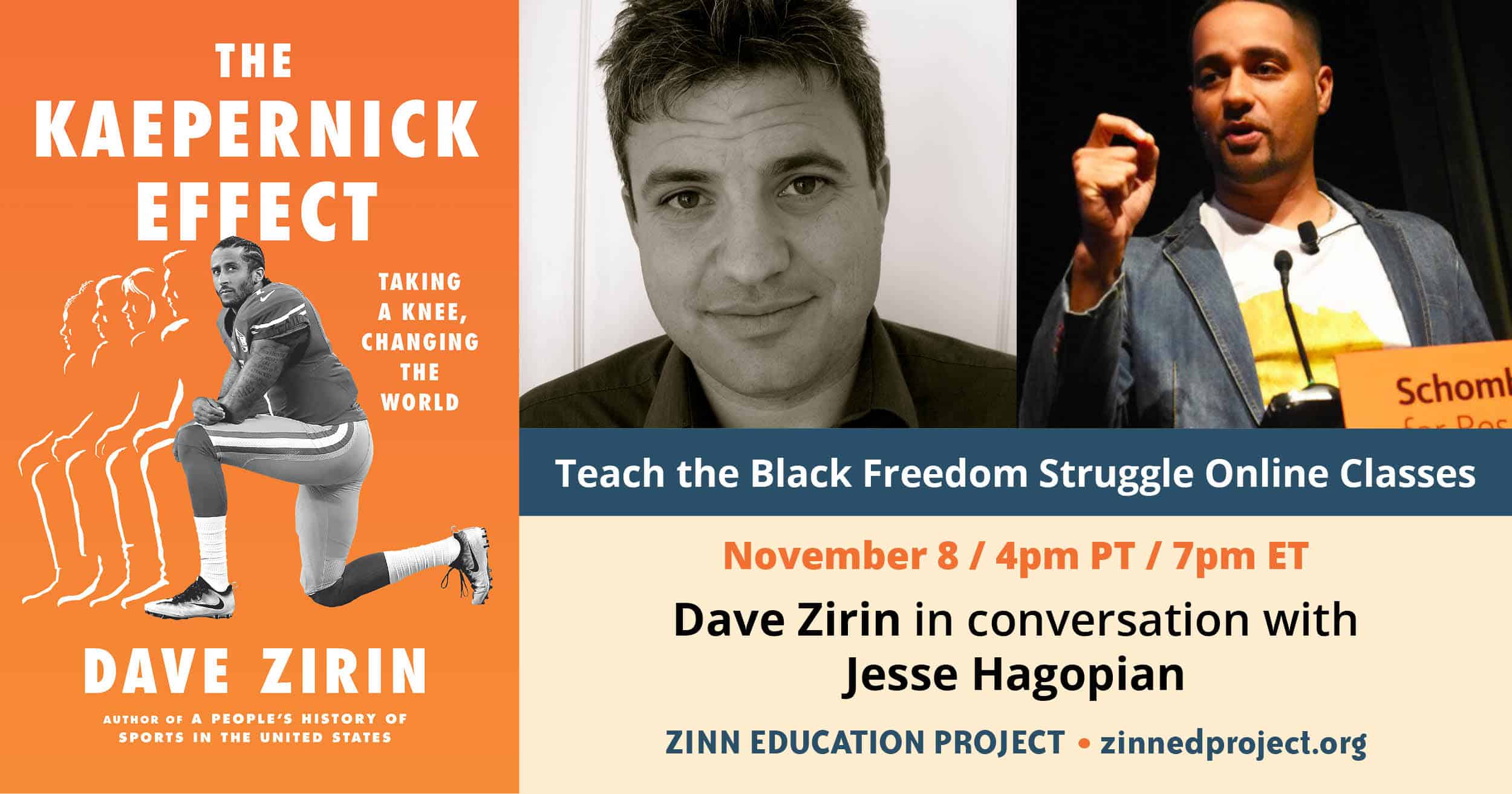 On November 8, 2021, author Dave Zirin joined educator Jesse Hagopian in dialogue for the Zinn Education Project's Teach the Black Freedom Struggle online people's history class to discuss his new book, The Kaepernick Effect: Taking a Knee, Changing the World. Through extensive interviews with high school and college students around the country, The Kaepernick Effect is dedicated to understanding how young people were inspired to launch a social movement from below.
Here are a few reactions from the participants:
Thank you so much for this opportunity! I want to get the book by Dave Zirin and continue learning and #teachingtruth!
I didn't know how much could be taught through sport protests.
I was so tired to begin the session. Left with enough energy to flow.
I thought this was one of the most participative, inclusive feeling webinars that I have ever attended. It did not feel like a group of over 200 'anonymous' participants and instead it seemed like a small group who were explicitly invited to participate & who did. It all worked well for me. Thank you.
Highlights
Here are some main points of the session from the tweet thread by Ursula Wolfe-Rocca, high school teacher and Zinn Education Project team member.
Zirin said the idea grew out of a conversation with John Carlos. The need to recognize & tell the stories of all the unknown people who make history — like the thousands of athletes (HS, college, & pro) who knelt following Kaepernick's action.

— Ursula Wolfe-Rocca (@LadyOfSardines) November 9, 2021
Zirin talks about what inspired these students to take on the risk (& there was A LOT of risk) of kneeling. When he asked them, he expected them to say, "Kaepernick." Instead, they said, "Trayvon Martin." Most of them were 9 or younger when Martin was killed.

— Ursula Wolfe-Rocca (@LadyOfSardines) November 9, 2021
Jesse and Dave talk about similarities between the "Trayvon generation" & the centrality of the murder of Emmett Till in so many elder racial justice activists' origin stories.

— Ursula Wolfe-Rocca (@LadyOfSardines) November 9, 2021
Teachers also helped students gain historical context for sports activism. At first, many though Kaep was an "only;" but educators introduced kids to John Carlos, Tommy Smith, Rose Robinson, Ali, etc.

— Ursula Wolfe-Rocca (@LadyOfSardines) November 9, 2021
Talking about all the grief (& vitriol) student protestors encountered, Zirin joked that the book should be called "What to Expect When Protesting," after What to Expect When Expecting, b/c there are so many different scenarios included in the book.

— Ursula Wolfe-Rocca (@LadyOfSardines) November 9, 2021
Video
Video of the full event, except the breakout sessions.

---
Audio
Listen to an audio recording of the session.
---
Sparked by this discussion with Zirin, some participants in the class shared similar stories of student activism in their own communities:
After I taught my 8th grade civics students a lesson on Kaepernick, the anthem, and the 1968 Olympics, one of my students started taking a knee and putting his fist up every day during the pledge of allegiance. Other students were surprised to know that they could not be required to stand for the pledge. I kept a copy of the West Virginia State Board of Education v. Barnette case from the 1940s about free speech and the pledge in my drawer to use if (and when) students were challenged for not standing. — Billy Rutherford, Boston, Massachusetts
The Kaepernick Effect impacted students at the Catholic all-girls high school I was at when an in-league school six blocks away from us modeled walk-outs and football game protests. The proximity and influence was stifled by local admins. — Carolyn Sideco, San Francisco, California
We had a student led protest after the murder of George Floyd, and a group of teachers followed the students with the support of our administration. We took a knee for nine minutes, and my colleague raised his fist during this time period. Around the seven minute mark, his arm started to shake, and he asked me if I had him and could hold him up. I braced my arm to hold him up, without question. He is a football coach and educator at my school. — Vikki Reid, LaGrange, Illinois
I teach at an all girls' school and our cheerleaders created a cheer where they end with their fists in the air. The place went crazy and the girls won great admiration from the fans. — Nelva Williamson, Houston, Texas
We had both athletes and musicians participate. . .  some athletes took a knee but, in addition, our choir typically sings the national anthem before games. . . we had multiple students take a knee and refuse to sing. No punishment or consequence as the choir director was supportive. — Anna Schottenstein, Bexley, Ohio
We had marching band members who took a knee while they were playing the National Anthem at football games. We also had members of our student body who protested via a walk out, advocating for a safe and secure environment for all at our school. . . . During the spring of 2021, our social justice club hosted a social justice rally on the football field, advocating for justice for all students. As part of our high school teachers book study of The Guide for White Woman Who Teach Black Boys, we came up with an action plan, in collaboration with our students of color. We asked what they would like to see and what it would look like and sound like. In addition, administration and staff met with our social justice club and interested students to find out what they felt the issues related to equity and diversity were at Linn-Mar HS and the students made a list of suggestions and we are working through them, including SLOW changes in the curriculum. First up a new diverse literature course will be offered next year. – Sheri Crandall, Linn-Mar HS, Iowa
Baltimore School for the Arts led a protest from their school down to the school district. Once there, they addressed superintendent, performed poetry and song written for the moment in early pandemic, and then made demands about the curriculum they need to be evaluated upon, saying The Autobiography of Malcolm X, for example, must be taught. The superintendent listened and references that demonstration . . .  so do I! Go students! — Kelly Barnes, Baltimore, Maryland
Resources
Here are many of the books, articles, films, and more recommended by the presenters and also by participants.
Related Books
Articles
Films
This Day In History
Participant Reflections
What was the most important thing (story, idea) you learned today? 
It is not easy to choose one. I am inspired by the students who are taking action and the teachers/adults who support them by teaching the truth and sharing examples from history.  I have coached and seen sports as a part of social protest, but I have new resources and more information on the intersection of sports and the struggle for inclusion and liberation.  
A sketch of the history of athletes' activism for equity in the U.S. going back many decades, with examples that are not the big, famous ones that everyone hears about and instead include women and names that are not known in every household.
Underscoring that the big name stars might make the history books, but it's the individuals in the masses that truly pushed a moment into a movement.  Let's find, memorialize, and share those narratives!
The moment we all remember is NOT the most important thing. What folks did afterwards is what really matters. Movement > moment.
The importance of collectivism. . . encouraging students to work together to fight the wrongs in our communities.
That I am not alone.  That the kids are alright.  I am so inspired by Dave's work documenting this important history of the brave choices of our student athletes all over the country.
The important role of teachers, coaches and administrators in encouraging young people to "change history" — it takes only a word or two to signal support and respect for young people's resistance.
I was taken by the statement that Dave said about Tommie Smith talking about the number of fists that were raised after the 1968 Olympics — it makes sense, but I never really thought that much about it before.  Considering the way that Kaepernick has impacted so many people, it makes me want to look into how Tommie Smith and John Carlos influenced protest in young people.
They don't play the anthem before sporting events in other countries, but you do have players taking a knee before the game. Zirin paused to emphasize the context for European sports, which are especially racist. Taking a knee in that context means that the players side with some of the fans, but not all of them, which is significant.
How Trayvon Martin was a catalyst for this generation like Emmett Till was for young civil rights activists in the 1950s and 1960s, but that athlete activists provided models of what to do with that anger.
The importance of uplifting our youth and teaching our youth the ways in which their voices and actions have always been central to the Black Freedom Struggle.
What will you do with what you learned?
I will invite more students to attend with me, provide service learning credits, and continue to connect modern world history and 20th century U.S. history to the events of our day with pre-vetted #TeachTruth folks, such as Dave Zirin.  
Support teachers and students to research athletes and sports protest/history.
Think more about how I can support student activism at my school with athletes or non-athletes. Also, how I bring stories of sports into the ELA classroom that offer connections to activism.
Continue to share the ZEP lessons and resources and all the info I gather from reviewing the resources and reading the texts that I have been given.
Take it back to my T4BL study group.
Make my classroom a place of radical confirmation.
I want to bring more sports activism in our research papers — at a 4th grade level.
Incorporate the reading suggestions and historical figures into my Sociology of Sport class (and hopefully other classes too!)
I am currently working with a local coach on modifying a toolkit for sports coaches around integrating SEL into their practice- and one of our top priorities is integrating equity and activism. I am excited to think about how to include what I have learned here into that work.
Continue to use stories of sports in teaching and add more stories of female athletes and their powerful role in making movements.
I will be looking more into Dave's book and the Zinn Ed Project!
Additional Comments
Thank you for the work you do — it is important to connect and learn from people across the country doing this work. It can feel isolating and lonely and hard. Opportunities like this remind me that I am in this with MANY others. Dave — I have a few of your books and will definitely be getting this one. It was incredible to be "in" the same room as you! Thank you for telling the stories that need to be heard and known.
Thank you very much for such an amazing session, which gives me hope about our shared future.
I loved everything about this workshop. I was especially touched and elated to know that it was accessible to those who communicate via ASL. The provision of skilled interpreters, subtitles, and available transcript was absolutely phenomenal and literally OUTSTANDING. It's unfortunate that those who are DEAF and interested in participating in any kind of workshop, be it in person or via online, have to miss out due to lack of inclusion and accessibility. Kudos to ZEP for taking measures to ensure that people like me could participate and have FULL ACCESS to everything afforded to others.
Presenters
Jesse Hagopian teaches Ethnic Studies and is the co-adviser to the Black Student Union at Garfield High School in Seattle. He is an editor for Rethinking Schools, the co-editor of Teaching for Black Lives, and editor of More Than a Score: The New Uprising Against High-Stakes Testing.
Dave Zirin, The Nation's sports editor, is one of UTNE Reader's "50 Visionaries Who Are Changing Our World" and is the author of ten books (including A People's History of Sports in the United States) on the politics of sports — none more important than The Kaepernick Effect for helping educators understand how young people can change the world.