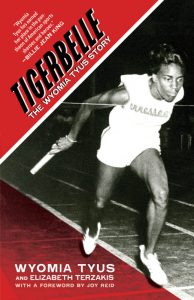 In 1968, Wyomia Tyus became the first person ever to win gold medals in the 100-meter sprint in two consecutive Olympic Games, a feat that would not be repeated for twenty years or exceeded for almost fifty. Written for young adult readers, Tigerbelle chronicles Tyus's journey from her childhood as the daughter of a tenant dairy farmer through her Olympic triumphs to her post-competition struggles to make a way for herself and other female athletes.
The Hidden Figures of sport, Tigerbelle helps to fill the gap currently occupying Black women's place in American history, providing insight not only on what it takes to be a champion but also on what it means to stake out an identity in an often hostile world. Tyus's exciting and uplifting story offers inspiration to readers from all walks of life. It includes a foreword by MSNBC host Joy Reid, and an afterword by sportswriter Dave Zirin. The publisher's website includes a teaching guide. [Publisher's description.]
ISBN: 9781617756580 | Akashic Books.
Reviews
Tigerbelle offers a fresh perspective on the history of women's sports in the United States. From her one-of-a-kind accomplishments on the track to her contributions to equal pay and publicity for women through the Women's Sports Foundation, Wyomia Tyus has earned her place in the pantheon of American sports sheroes and heroes. — Billie Jean King
Wyomia Tyus's story is truly an American story. It is one of profound loss and quiet courage, illustrating the contradictions of race and gender in this country and an unrelenting commitment to growth in spite of life's obstacles. From a dairy farm in Griffin, Georgia, to the annals of American sports history, Tyus inspires and teaches us all about 'getting out of the blocks' with humility, grace, and power. Her story gives true meaning to the phrase, Black Girl Magic. — Eddie S. Glaude Jr., chair of the Center for African-American Studies at Princeton University