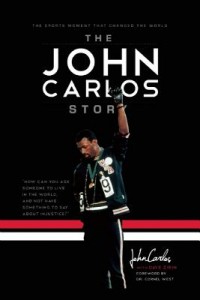 More than 40 years after Tommie Smith and John Carlos ignited the sports world with their black-gloved fists raised on the victory stand at the 1968 Mexico City Olympics, Carlos says, 'I still feel the fire.' Any doubts that time and age have somehow diminished the passion that fueled his track and field career are dispelled with the publication of The John Carlos Story. —Neil Amdur, New York Times, October 10, 2011 (Full review.)
The image of John Carlos and Tommie Smith with their fists in the air at the 1968 Olympics is recognized around the world.
Yet, as with so much of history, we know about the event but not the story of the organizing by athletes leading up to the Olympics, nor what happened to Carlos and Smith afterward.
Read this beautifully written book and you will realize that the full story is as powerful and gripping as the photo.
The John Carlos Story is highly recommended for grade 7 to adult.
ISBN: 9781608461271 | Haymarket Books
Book Events
John Carlos and Dave Zirin visit a school in Washington, D.C.: Article, student comments, film clips, and photos
Book Launch on Oct. 1, 2011, hosted by Teaching for Change, in Washington, D.C. See photos below of event with a standing room only audience.
Book Trailer
Video Clip
Tommie Smith and John Carlos, 2008 Arthur Ashe Courage Award
Related Resources
Reviews
"An intelligent and insightful look into the journey of one of our most underrated heroes. Mr. Carlos' passion for justice and fairness has changed our world. You can feel his passion (and his anger) in every word." —Jemele Hill, ESPN columnist and television analyst
"John Carlos was just so inspiring. Out of all the important people that have come to speak to us—he's the only one who kept me awake. After hearing him speak and his story, I want to be somebody better in life. I don't even really like to read, but I want to read his book, and capture all the important parts of it, and rethink myself, how I can be a better person, and how I can make a change." —Gwendolyn, 11th grade. Comment made after John Carlos spoke at her school in Washington, D.C.  Read full description of the school visit and more comments from students.
"The John Carlos Story included plenty of humor, historical anecdotes and sometimes depressing moments, all written in a conversational manner. For a book with this much history it can be easy to get preachy or sound like a textbook, but Carlos does neither. The personal aspects of the narrative intrigued me from beginning to end. For that reason, I'll more than likely re-read this book just to enjoy it all over again." —Shamontiel L. Vaughn, Chicago Tribune (Read full review).
"John Carlos is an American hero. And finally he has written a memoir to tell us his story — and a powerful story it is. I couldn't put this book down." —Michael Moore
"Biblically, athletes with superior attributes were seen as gifts from God. Whether it was Samson staring down the Philistines or David slaying Goliath, they and latter-day heroes such as Joe Louis, Jackie Robinson and Muhammad Ali, selflessly used their gifts and magnificently magnified platforms to transform society. It is in that tradition that John Carlos, and his teammate Tommie Smith, raised their fists in solidarity with the American civil rights struggle, as well as the struggles of those who exist on the downside of advantage. It was a statement for the ages. This act of righteous defiance lifted us all to a new level of dignity and shared responsibility to improve the conditions of the poor the world over. . . But the price of heroism is high. John Carlos paid and this is his story." —Rev. Jesse L. Jackson Sr.
"The John Carlos story is the remarkable chronicle of an epic life sketched against the defining crisis of race in America. Carlos' athletic genius on the field is matched by his heroic will to overcome trials and tribulations in his personal life, and to find resurrection in his professional life. This is an inspiring and eloquent story about a great American whose commitment to truth, justice and democracy were tested and found true." —Michael Eric Dyson
"John Carlos' life story is an insightful and gripping look at the times he lived and the Olympics he helped make so memorable. He shows us that the one day that made him famous was only the most outward and visible sign of a touching and thoughtful life." —Frank Deford
"The John Carlos Story is a blow by blow detail of triumph vs tragedy from the jump. Again Dave Zirin uncovers, and yet illuminates the mere footnotes of this sports history hero with his impeccable balance of truth. This story drills a hole into the myth of black athlete success and worship." —Chuck D, Public Enemy
"John Carlos tells a compelling story of courage and the consequences of action. He, Tommie Smith and many other Black athletes took a stand against racial injustice in the U.S. and racial injustice in sports. They were ridiculed by many mainstream commentators at the time, but their actions helped to transform both the sports world and this country. This book was by and about someone who has been and remains one of my heroes." —Bill Fletcher Jr., editorial board member, BlackCommentator.com