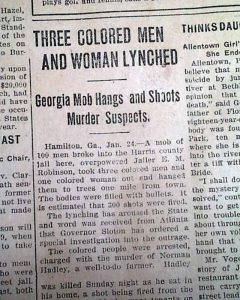 On Jan. 22, 1912, four African Americans (including one minister and three farmers; one of the farmers was a woman) were lynched in Hamilton, Georgia. The three men were accused of killing white planter Norman Hadley — who was known to sexually harrass and abuse Black girls and women.
The woman (Dusky Crutchfield) was told to testify against the men (John Moore, Eugene Harrington, Burrell Hardaway), but she refused. The minister, Hardaway, had spoken out about the behavior of Hadley from the pulpit.
The four were arrested with no evidence. They were soon forcibly removed from jail and hanged from an ancient live oak tree next to the outdoor baptismal font beside the Friendship Baptist Church, which had been built just after the Civil War by people freed from slavery.
Read more about this story in:
"The Long Afterlife of a Lynching" by Karen Branan
The Family Tree: A Lynching in Georgia, A Legacy of Secrets, and My Search by Karen Branan
Learn about the history of lynchings in Georgia. Also read "Lynching in America: Confronting the Legacy of Racial Terror" from the Equal Justice Initiative.