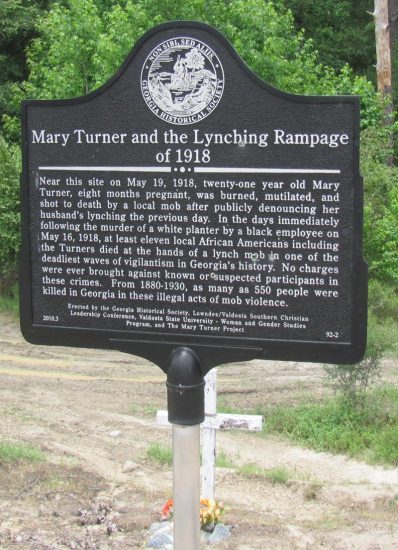 On May 19, 1918, Mary Turner, a young African American woman who was eight months pregnant was lynched in Lowndes County, Georgia.
Turner was brutally murdered after she publicly denounced the extrajudicial killing of her husband, Hazel Turner. She was one of at least 3,446 African Americans lynched between 1882 and 1968 in the United States.
Turner's death prompted NAACP officials to ask Missouri Congressman Leonidas Dyer to craft the 1922 Dyer Anti-Lynching Bill.
The bill passed the U.S. House of Representatives but did not become the law of the land until December of 2018, because of opposition from Southern Democratic Senators. [Description from Blackpast.org.] 
Learn more from the Mary Turner Project and from "A Hundred Years After Her Lynching, Mary Turner's Memorial Remains a Battleground" by Julie Buckner Armstrong in Zocalo Public Square.
Read the book Mary Turner and the Memory of Lynching by Julie Buckner Armstrong. Also, find short stories and poetry about Turner in Red Clay Suite by Honorée Fanonne Jeffers.
Visit the Equal Justice Initiative memorial.