Late in the evening of Friday, August 23, 1968, five dozen African American troops staged an orderly, nonviolent sit-in at the intersection of 65th Street and Central Avenue at Fort Hood (now called Fort Cavazos). They were protesting the deployment to Chicago for riot-control duty at the Democratic National Convention, which was planned for the following morning.
The majority of these soldiers had sincere, serious reservations about being put in situation where they might be asked to engage other African American as "hostiles." Several demonstrators mentioned that they had grown up in poor, Black neighborhoods and said they knew why people were rioting. "The people we are supposed to control, the rioters, are probably our own race," one protester said. "We shouldn't have to go out there and do wrong to our own people."
Another African American soldier explained their perspective. "Most of them have seen action," he said. "They have done the job they have been trained to do. And we were sent back here to Ft. Hood to control the situation in the streets. We — the Black soldiers at Ft. Hood, the ones who are aware — are not going."
Around 5:00 a.m. Saturday morning, the first armored division commander and members of his staff met with the protesters and spoke with the group for approximately one hour. Seventeen of the demonstrators dispersed, but forty-three remained.
Immediately placed in the base stockade (in some reports beaten along the way) for failing to make morning reveille, these soldiers became known as the "Fort Hood 43." Their refusal to board a plane to Chicago for riot-control duty was one of the largest acts of dissent in U.S. military history.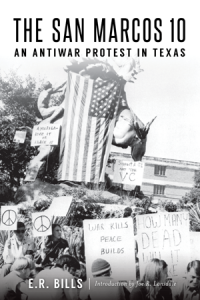 Over the next few months, most of the Fort Hood 43 were court-martialed and punished, receiving sentences of three-to-six months of hard labor, a forfeiture of two-thirds of their wages, and reductions of rank across the board.
Author E. R. Bills provided this entry, excerpted and adapted from his book, The San Marcos 10: An Antiwar Protest in Texas. Read more about the Fort Hood 43 at Displaced Films.
Fort Hood was the site of another protest by soldiers in 1966.