On March 21, 1919, entrepreneur Claude Albert Barnett launched the Associated Negro Press, or ANP, a nationwide and international news service that focused on current events, feature stories, opinions, and other information important to African Americans but usually ignored by or unknown to white-owned mainstream media.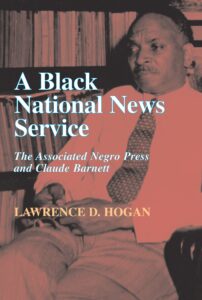 The Chicago-based ANP embarked with 80 charter members, including key newspapers, such as the Afro-American in Baltimore, Amsterdam News in New York City and the Norfolk Journal and Guide in Virginia, according to historian Lawrence D. Hogan, author of A Black National News Service: The Associated Negro Press and Claude Barnett, 1919-1945.
The ANP was established during a watershed year in U.S. race relations, a time that saw an epidemic of white-on-Black racist mob violence and lynchings that came to be known as Red Summer.
The concept of a news service to amplify both the range of coverage and the influence of the Black press, especially in fighting Jim Crow, had been contemplated and sometimes attempted since the 1870s. Barnett's endeavor was the most successful. At its peak, the ANP distributed articles and columns to about 150 Black-owned newspapers in the United States and 100 in Africa in both English and French, historian Gerald Horne reports in his book, The Rise & Fall of the Associated Negro Press: Claude Barnett's Pan-African News and the Jim Crow Paradox.
The ANP's operation, Horne notes, included encouraging member newspapers to share articles through the service and publish reports generated by ANP correspondents, stringers, and columnists. The stories, features, opinions, and book and movie reviews provided an important connecting fabric for Black communities across the U.S. and helped create a fuller and deeper picture of African American experiences and connections with Africa.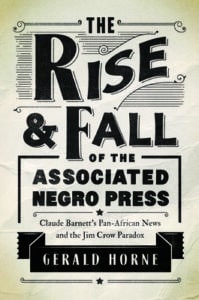 The array of writers included Alice Dunnigan, ANP's Washington, D.C., bureau chief who was the first Black woman to obtain White House press credentials as well as to become a member of the Senate and House of Representatives press gallery. In 1948, she was the first African American journalist to accompany a traveling president by covering Harry S. Truman's campaign. Another star was Fay M. Jackson, who began as ANP's Hollywood correspondent and then covered stories overseas, including the coronation of King George VI of the United Kingdom in 1937.
Virginia Union University sociology professor and anti-segregation activist Gordon Blaine Hancock wrote a weekly column that was distributed to 114 Black newspapers. African American civil rights and literary figures associated with the ANP at some points in their careers included James Weldon Johnson, Mary Church Terrell, Zora Neale Hurston, Langston Hughes, Richard Wright, Roy Wilkins, and Vernon Jordan.
With Claude Barnett's health failing in the 1960s, the ANP ended operations in 1964. Barnett died three years later at age 77.
By Michael Knepler, who prepares occasional #tdih posts for the Zinn Education Project.