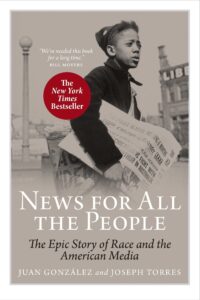 News for All the People by Juan González and Jose Torres is a sweeping account of the class and racial conflicts in U.S. news media, from the first colonial newspaper to the internet age. It chronicles key government decisions that created our nation's system of news, major political battles over the role of the press, and the rise of media conglomerates and epoch-defining technologies.
The book reveals how racial segregation in the media distorted the news and unearths numerous examples of how publishers and broadcasters actually fomented racial violence through their coverage. And it illuminates how Black, Latino, Asian, and Native American journalists fought to create a vibrant yet little-known alternative and democratic press and then, beginning in the 1970s, forced open the doors of the major media companies.
The writing is fast-paced, story-driven and replete with portraits of individual journalists and media executives, both famous and obscure, the heroes and the villains. It weaves back and forth between the corporate battles and government policies that built our segregated media system — as when Commerce Secretary Herbert Hoover gave a radio license to a notorious KKK organization in the nation's capital — and those who rebelled against that system, such as Pittsburgh Courier publisher Robert L. Vann, who led a national campaign to get the black-face comedy Amos 'n' Andy off the air. [Publisher's description.]
Authors
Juan González, Democracy Now! co-host and award-winning columnist at the New York Daily News. He is the former president of the National Association of Hispanic Journalists. His other books include Harvest of Empire: A History of Latinos in America.
Joseph Torres, senior adviser for government and external affairs for Free Press, the national media reform organization. He is the former deputy director at the National Association of Hispanic Journalists.
Reviews
"Juan González and Joseph Torres have rendered a splendid public service with this highly readable and engrossing story of how the press sees — and doesn't see — who we are as a people. Race and ethnicity, power and privilege, the visible and the invisible are at the core of our democratic crisis today, and it's hard to imagine a better way to face the challenge than to be armed with the story this book tells so well." — Bill Moyers, Public Affairs Television
"News for All the People is truly a masterpiece; I could not put it down. After years of research, Juan González and Joseph Torres have produced a book that will be nothing short of mandatory reading for all who care about the media or democracy. It will change how you think about media and American history." —Robert W. McChesney, coauthor of The Death and Life of American Journalist
"A 'first-of-its-kind' rendering of the causes, contexts, and consequences of the American media system across the fault line of race. Haunting and prophetic, this is a must-read for all the people." —Malkia Amala Cyril, executive director of the Center for Media Justice
"With clarity, exquisite detail and strong scholarship, the authors show us how the neglect of the mainstream press over the years still haunts the nation's identity about who is an American." —Arlene Notoro Morgan, associate dean at the Columbia Graduate School of Journalism, co-editor of The Authentic Voice: Best Reporting on Race and Ethnicity
"The historic inability of marginalized communities to control their own images has been devastating. News for All the People illustrates that this lack of control hasn't been by accident. It's a part of a greater story of media control and ownership that traces back to the creation of the United States. An essential read." —James Rucker, founder of ColorOfChange.org
"This is journalism history from an entirely fresh perspective, one that challenges the old heroes and shines a sharp light on the role of the media in revealing social inequities in a democratic society." — Booklist (starred review)
ISBN: 9781844676873 | Verso Books