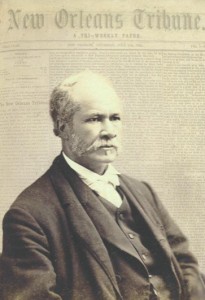 Beginning October 4, 1864 the New Orleans Tribune was published daily in French and English by Dr. Louis Charles Roudanez (June 12, 1823 – March 11, 1890). The newspaper's editorials called for full suffrage, civil rights for all, free public education for all, and carried on a war against President Andrew Johnson's policies by sending copies of the Tribune to every member of the U.S. Congress on a regular basis.
Roudanez, a visionary free Black man, was a doctor and journalist. Greatly influenced by revolutions in Saint Domingue and France, and angered by slavery and racial injustice, he took up the cause of equality during the Civil War and Reconstruction era.
With his Tribune colleagues and a dynamic community of free and freed persons of African descent, Roudanez courageously attacked racism in the face of some of the nation's worst violence. He was the guiding force behind one of the most radical and influential journals of its time. The Tribune's crusade led to Black enfranchisement, the creation of a groundbreaking State constitution with strong equal rights provisions, and the election of many Black representatives. The vision of Roudanez, articulated in print and manifested in social protest, forged one of the most important civil rights campaigns in U.S. history.
Visit the Roudanez website to explore the history of the New Orleans Tribune which features an in-depth history of the Tribune, a virtual tour of historic sites, articles about the importance of the paper, extracts, a timeline of significant events in the Tribune's past, and a video and photo gallery.
The information for this post was provided by Mark Charles Roudané, retired elementary school teacher and great-great-grandson of Charles Roudanez. We highly recommend Roudané's October, 2015 article in The Atlantic, "Grappling With the Memory of New Orleans: A family's story traces the roots of the eclectic city, the country's first black daily newspaper, and the evolution of racial injustice." Roudané developed and maintains the Roudanez website.
Learn about the people's history of the media in News for All the People.