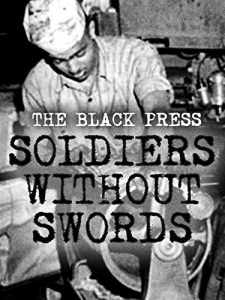 The Black Press: Soldiers Without Swords is an engaging historical account that tells the story of the pioneering men and women of the Black press who gave voice to Black America. It was the first documentary to provide an in-depth examination of the history and contributions of African American newspapers, and it chronicles the growth, accomplishments and illustrious history of what once was this nation's strongest voice for the African American community.
Since the early 1800's Black newspapers have existed in almost every major city in the United States. Collectively, these newspapers contain the most detailed record of African American life in existence. From facilitating the migration of Southern Blacks to northern cities; to recording the social and political events affecting the lives of African Americans; to providing a showcase honoring Black soldiers in World War II, the Black press documented life for millions of people that were otherwise ignored.
Several of the key reporters, publishers, and photojournalists from the latter era of the Black press are interviewed in the film, shortly before their deaths. Director and producer Stanley Nelson conducted one of the last on-camera interviews with John Sengstacke, publisher of the only daily Black newspaper still in production, the Chicago Defender; and with the late Charles "Teenie" Harris, retired staff photographer with the Pittsburgh Courier. Other prominent Black journalists interviewed are Vernon Jarrett, former reporter with Chicago Defender, Chicago Tribune, and the Chicago Sun Times and Edward "Abie" Robinson, a former reporter with the California Eagle.
The Black Press brings this history to life by weaving music by Grammy award-winning jazz artist Ron Carter with archival footage, photographs and interviews with editors, photographers and journalists of the Black press. The film is narrated by stage, screen, and television actor Joe Morton. [Description from PBS.]
Trailer
Watch
This film is available to watch for free through a library membership at Kanopy.org
Learn More
California Newsreel offers information about where to buy or rent the film. It also provides a transcript of the film and facilitator guide.