We were pleased to connect with thousands of teachers from across the United States at our Zinn Education Project booth and workshops last month at the annual National Council for the Social Studies conference in Austin, Texas.
Over the course of the two-day conference, we offered five popular workshops: The Birth of the Mexican Border; Poetry of Defiance: How the Enslaved Resisted; Who Freed the Slaves?; Deportations on Trial: Mexican Americans During the Great Depression; and Pipelines and People: Investigating the Dakota Access Pipeline.
In each of the sessions, attendees had the opportunity to experience portions of the lessons, led by authors Bill Bigelow, Ursula Wolfe-Rocca, and Adam Sanchez. In a pre-conference full-day workshop, Bigelow led a "Teach Climate Justice" session at the University of Texas for teachers, teacher educators, pre-service teachers, and activists.
As a teacher educator and teacher of multilingual, refugee, and immigrant students, I found Bill Bigelow's "Birth of the Mexican Border" session to be truly powerful. He opened the session with profound statements that had me reflecting on my own context here in Texas and scribbling his every word in my notebook.
In our packed room of 75+ educators, he advised us that, "We need to teach about the world as it is, but we don't need to do it grimly. We can have lively conversations." Thank you, Mr. Bigelow, and Zinn Education Project, for a memorable professional experience. — Katie McKay, teacher consultant, Heart of Texas Writing Project, Austin, Texas
At the Zinn Education Project booth in the exhibit hall, we introduced teachers to our campaigns to Teach Reconstruction, Commemorate the 15th Amendment, and Teach Climate Justice. Many visitors to the booth already use lessons from the Zinn Education Project and shared stories from their classrooms.
Several teachers stopped by to tell us how they have used our lessons since meeting us at previous conferences. One teacher, Adrijana Bisevac, shared how successful Ursula Wolfe-Rocca's COINTELPRO session and lesson have been in her classroom: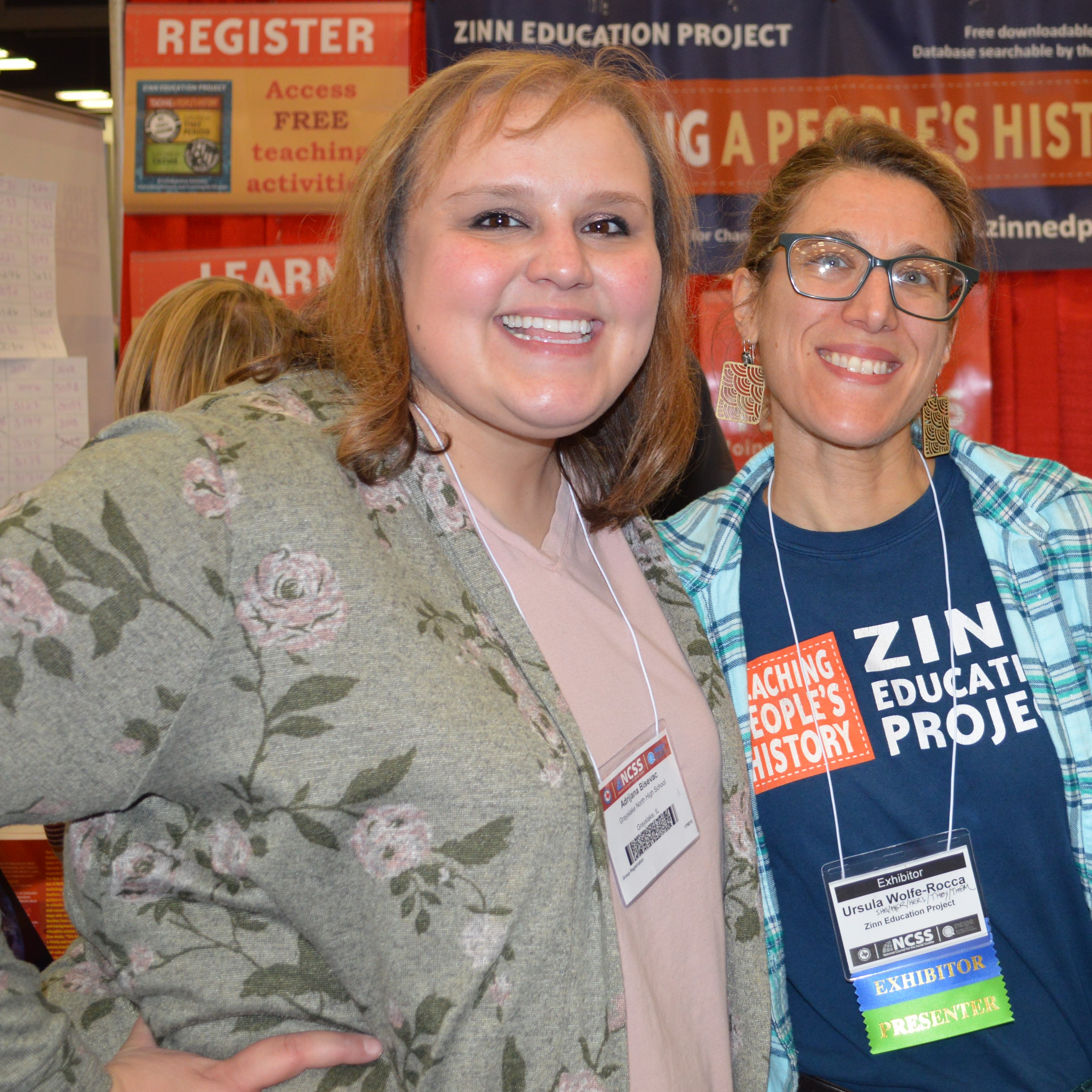 I was incredibly impressed with the materials presented during a workshop on the Civil Rights Movement and a COINTELPRO lesson by the Zinn Education Project during the NCSS conference in 2018. Since then, I have used facets of that specific lesson, such as the sources on the Black Panthers, in class to spark discussions with my students.
I was so happy I discovered both the Zinn Education Project and this lesson, in particular. It provides a different lens that I had not previously given to my class, regarding the Black Panthers. The lesson as a whole allows for links to current events and issues in today's society as well.
—Adrijana Bisevac
High School Social Studies Department Chair, Grayslake, Illinois
Teachers also told us about their commitment to teach about the climate. Dean Spencer, a middle school teacher in Belmont, Massachusetts, described how the students have taken organizing into their own hands:
I sent a letter to my students' families about why I was not going to school on September 20. Then I invited students to lunch if they wanted to know why. Sixteen students came and now they are working on their own time. The group has grown and they are working on action plans within the school and beyond.
Meghan LeRoux, a teacher from Kansas City, Missouri, was one of dozens of teachers who took the pledge to teach about climate justice:
I pledge to teach climate justice because it's important for students since they are dealing with the repercussions of ours, and previous generations', mistakes.
Emily Wilkie also pledged. She told us she has seen the effects of climate change first-hand:
Students in Illinois are already arriving as climate refugees from Guatemala and other Central American countries, so it is responsive to students' lived experiences. We also desperately need to help our students to start solving the problems that inevitably will be experienced in their lifetime.
Read more responses to the Teach Climate Justice Pledge. Take the pledge here.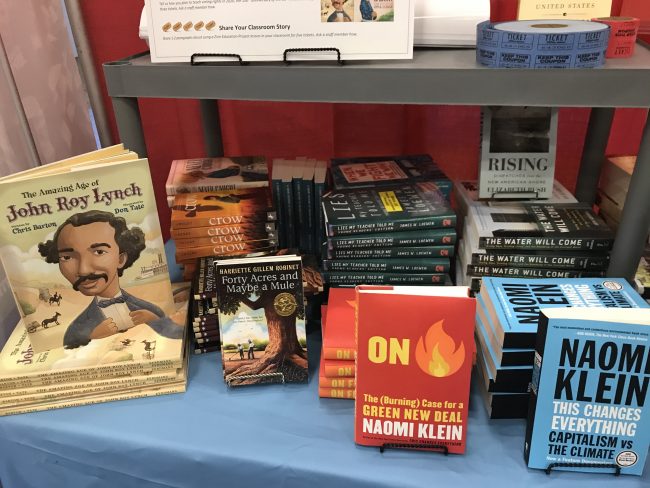 Teachers had the chance to take home titles related to our campaigns. Many teachers who participated in the booth activities (like Share Your Story and the Climate Justice Pledge) chose from the following titles:
The publishers Simon & Schuster, The New Press, HarperCollins Publishers, Wm. B. Eerdmans Publishing Company, Penguin Random House, Milkweed Editions, Candlewick Press, Scholastic, The Taylor & Francis Group, Hachette Book Group, The New York Times, and Little, Brown & Company made this giveaway possible.
We won books from the @ZinnEdProject booth! I immediately chose the new @NaomiAKlein book and am so stoked to read it 👀💖🏆 #NCSS19 pic.twitter.com/O9SVnLzw3q

— Jessica GarGar (@JGarciaTX) November 23, 2019
Next Year in D.C.
We look forward to interacting with more teachers next year in Washington, D.C.