Too often, climate change education is regarded as the responsibility of science teachers, and occasionally of social studies teachers. In Teaching Climate Change to Adolescents, Richard Beach, Jeff Share, and Allen Webb argue that it is the urgent responsibility of English teachers to help students think critically about, and take action on, "the issue of our age, climate change and environmental justice."
The authors lay out compelling arguments for why that is the case, but perhaps most significantly, they offer readers a treasury of novels, nonfiction books, stories, films, and teaching activities that show how to bring climate issues to life in the language arts classroom. An entire chapter focuses on "Literature and the Cli-Fi Imagination," offering valuable suggestions.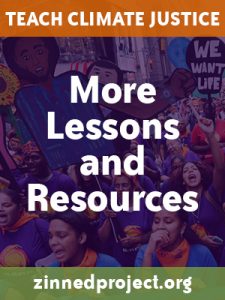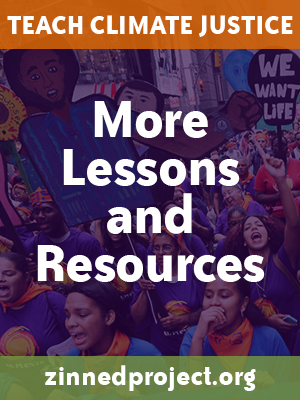 A chapter on "Writing About Climate Change" features a quote from the writer Amitav Ghosh, who describes a time when "most forms of art and literature were drawn into the modes of concealment that prevented people from recognizing the realities of their plight." That pretty accurately captures the conventional curriculum.
Through classroom examples and resource suggestions, Teaching Climate Change to Adolescents offers teachers tools to cut through those modes of concealment. [Description by Bill Bigelow, Rethinking Schools.]
Teaching Climate Change to Adolescents: Reading, Writing, and Making a Difference
Chapter 1: Why Teach about Climate Change In English Language Arts
Chapter 2: Getting Started in Teaching about Climate Change
Chapter 3: Creating Climate Change Curriculum
Chapter 4: Literature and the Cli-Fi Imagination
Chapter 5: Writing about Climate Change
Chapter 6: Critical Media/Digital Analyses of Climate Change
Chapter 7: Using Drama and Gaming To Address Climate Change
Chapter 8: Interdisciplinary Teaching about Climate Change
Chapter 9: Acting in the Present: Changing the Future
ISBN: 9781138245259 | Co-published by the National Council of the Teachers of English and Routledge.
---

---