The year 2022 marks the 100th anniversary of Howard Zinn's birth on August 24, 1922, in Brooklyn. Although Howard died in 2010, his work continues to inform and inspire educators around the world. His most popular book, A People's History of the United States, has close to 4 million copies. Bill Bigelow described Zinn's work in a 2020 tribute:
Zinn did not merely record history, he made it: as a professor at Spelman College in the 1950s and early 1960s, where he was ultimately fired for his outspoken support of students in the Civil Rights Movement, and specifically the Student Nonviolent Coordinating Committee (SNCC); as a critic of the U.S. war in Vietnam, and author of the first book calling for an immediate U.S. withdrawal; and as author of arguably the most influential U.S. history textbook in print, A People's History of the United States. "That book will knock you on your ass," as Matt Damon's character says in the film Good Will Hunting. Continue reading.
At the Zinn Education Project, we are commemorating the anniversary in a number of ways:
People's History Lessons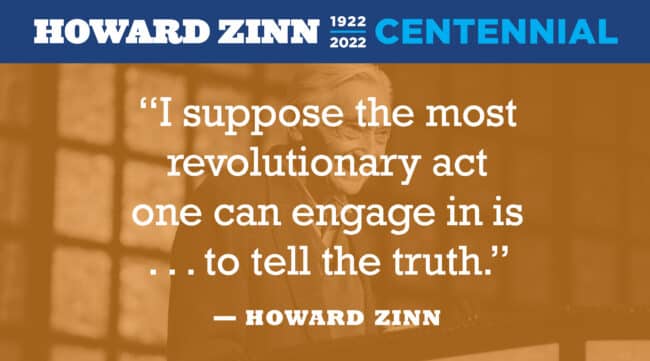 Continue to provide free lessons and classes on teaching people's history and defend teachers' right to teach outside the textbook. Since we launched the Zinn Education Project, with the support of Howard Zinn in 2008, more than 140,000 teachers have signed up to access free people's history lessons from our website. Thousands more have participated in our online classes, workshops, and study groups. Those teachers are under attack from right-wing legislation that bans teaching about systemic racism, making it difficult to teach honestly about U.S. history.
Prisons and Prisoners

Share Howard Zinn's writing about prisons and his correspondence with prisoners. While Zinn's essays on the Civil Rights Movement and war are well known, his writing about prisons gets less attention, reflecting the invisibility of mass incarceration in this country. During this anniversary year, we are shining a light on Zinn's extensive, decades-long correspondence with prisoners and his belief that prisons should be abolished. Here are quotes, essays, correspondence, and articles.
People's Historians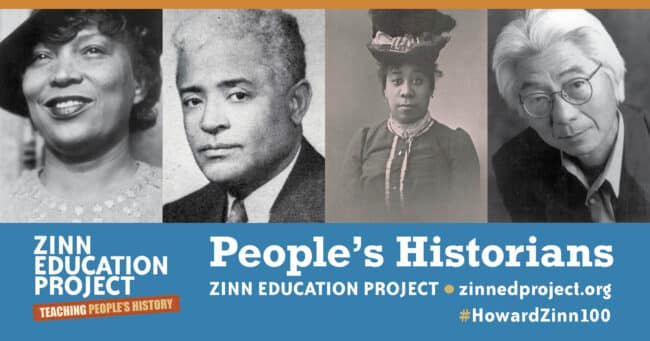 Highlight examples of the people's historians who preceded Howard Zinn and the countless contemporary people's historians. Too often, people place Zinn on a pedestal as the first and most influential people's historian. Zinn would be the first to object. (It is not just fans who lionize him. The right promotes an outsized focus on Howard Zinn so that they can use him in their McCarthy-like attacks on the teaching of people's history.) We should not focus on one people's historian, but celebrate and learn from the work of people's historians more broadly. These include historians from the 19th and early 20th century (primarily African American), Zinn's contemporaries, and those who continue to expand our understanding of people's history today. Throughout the year we are featuring people's historians, beginning with John Henrik Clarke, born in 1915.
Howard Zinn Quotes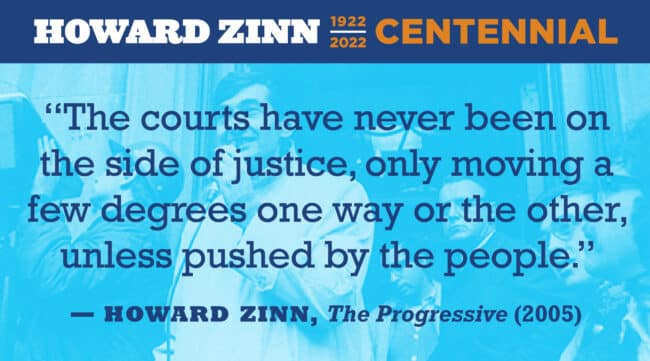 We are curating a collection of quotes by Howard Zinn from a wide selection of his books, essays, interviews, and talks.
Share Your Stories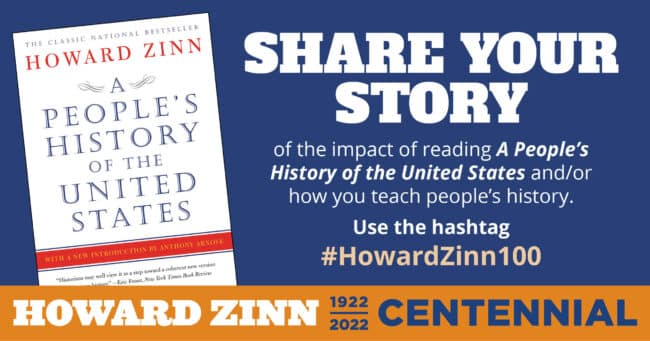 Share your memories, favorite Zinn quotes, the impact of reading A People's History of the United States, or other stories. Use the hashtag #HowardZinn100.
Events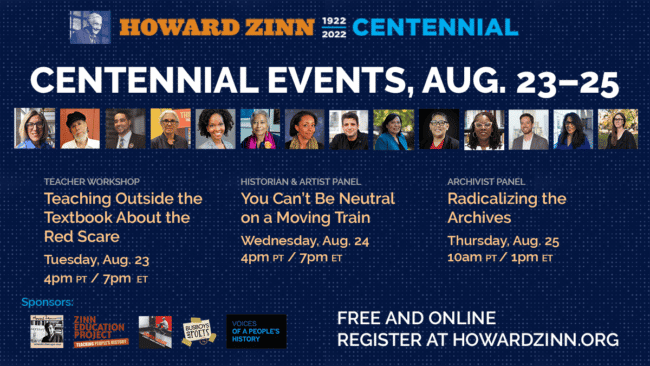 We co-hosted activities including a teacher workshop on August 23, a forum with historians and artists on August 24 as part of the Teach the Black Freedom Struggle series, and a session on radicalizing the archives on August 25.
And More
There are also commemorative events by our colleagues at Voices of a People's History, Tamiment Library, The New Press, Seven Stories Press, Alternative Radio, the National Whistleblower Center, and other organizations. Rethinking Schools magazine is featuring a Howard Zinn essay in each quarterly issue this year.
Let us know if you have plans to commemorate the Howard Zinn Centennial, such as with a book talk, art project, podcast interview, letter to the editor, op-ed, a lesson you teach, or anything else that comes to mind.