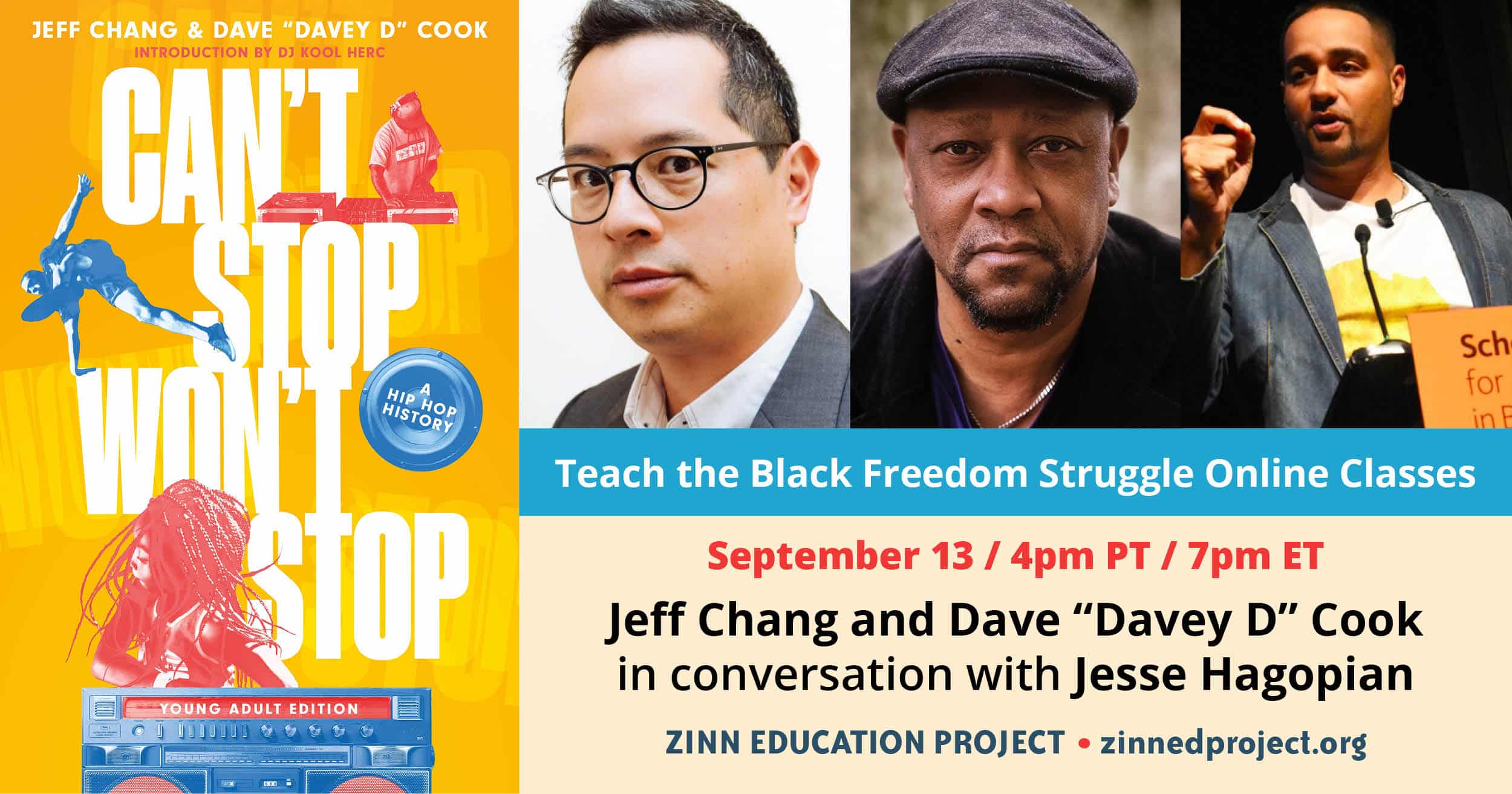 On September 13, 2021, co-authors Jeff Chang and Dave "Davey D" Cook were interviewed by Jesse Hagopian about their young adult edition of Can't Stop Won't Stop: A Hip-Hop History. This session was part of the Zinn Education Project's Teach the Black Freedom Struggle online people's history class series.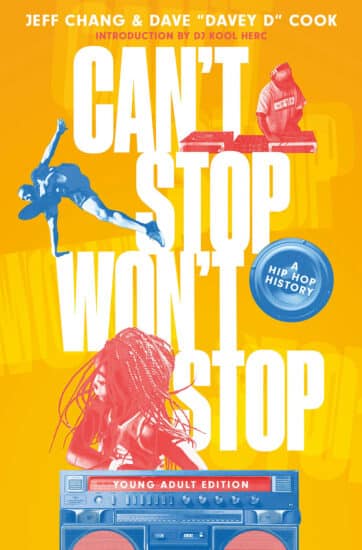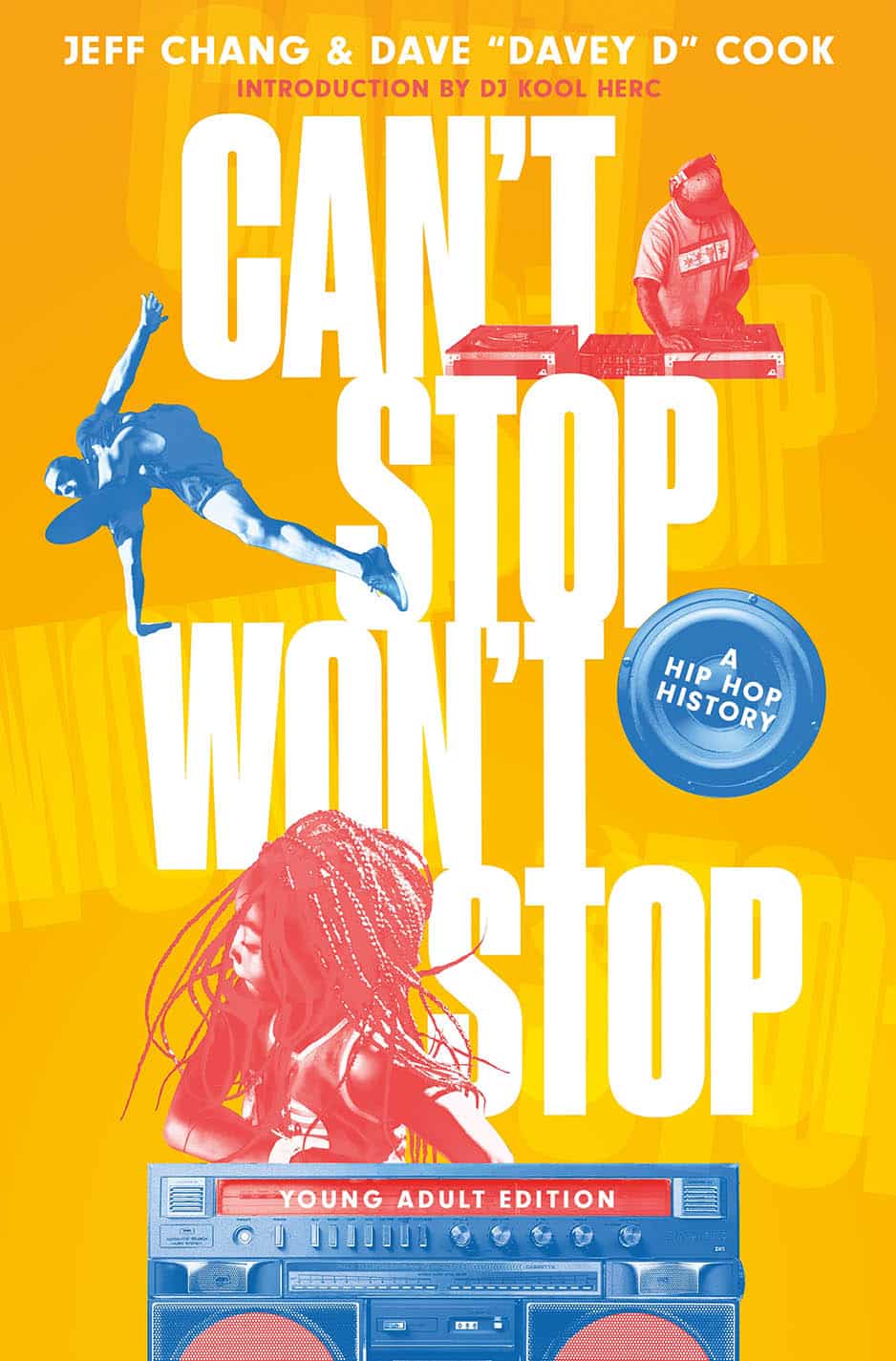 The young adult edition of Can't Stop Won't Stop is an essential guide for not only understanding hip-hop music and culture, but also a critical analysis of the last few decades of U.S. history.
This seminal account of the music and culture situates the rebellion of hip-hop as a reaction to the neoliberal economic and social order that snuffed out the great social movements of the 1960s and 70s. Detailing hip-hop's rise to global prominence — with attention to dynamics of race, class, gender — Chang and Davey D explain how young people — especially BIPOC youth — over generations have utilized the culture to express themselves and make their needs understood in a country that has abandoned and denigrated them.
Despite the importance to youth and its immense impact, in too many classrooms hip-hop gets excluded. This discussion was designed to help educators understand the history of hip-hop, the way hip-hop has shaped history, and how it can help make our classes more relevant to our students' lives.
Here are a few reactions from the participants:
Davey D's comments on the commodification of hip-hop are really resonating with me, and how it connects to taking the test as opposed to truly learning. I definitely want to go back and re-watch this session!!!
Everybody was so inspirational, and speaking to other educators across the nation was invaluable.
Loved the entire conversation and rethinking all of the ways to connect hip hop to such a wide variety of topics taught in U.S. and World History.
Hip-hop is a way for history to be told about the streets rather than the history that America wants us to know. This meeting was really inspiring.
Highlights
Here are some main points of the session from the tweet thread by Ursula Wolfe-Rocca, high school teacher and Zinn Education Project team member.
Jesse kicks off the conversation by asking the authors to talk about the way that hip hop emerged as a Black & Brown youth response to & rebellion against the neoliberal era—including the gutting of social programs and shuttering of community centers.

— Ursula Wolfe-Rocca (@LadyOfSardines) September 13, 2021
We should be clear, adds @mrdaveyd, there are different iterations of the Black Freedom Struggle & the iteration from which hip hop grew is Black Power & the politics of abandonment. "We're not gonna turn the other cheek & we're gonna have a politic that challenges the system."

— Ursula Wolfe-Rocca (@LadyOfSardines) September 13, 2021
Jesse asks about challenges women face in the hip-hop industry. @mrdaveyd says, we wanted to work hard not to treat women in a tokenizing manner, for many reasons, but most of all because of the truth: women have been part of hip-hop since the beginning.

— Ursula Wolfe-Rocca (@LadyOfSardines) September 13, 2021
Jesse asks about the war both conservatives AND liberals have waged against hip hop. Let's be clear, says @mrdaveyd, the attack on hip hop is an attack on Black people. It doesn't matter what Black people do; if we offer a critique of *anything*, we will be called violent.

— Ursula Wolfe-Rocca (@LadyOfSardines) September 14, 2021
Jeff Chang: We are interested in the dialectic between creativity & violence, how state violence gives rise to incredible creativity (& organizing!) by young people — THAT'S what the powers that be are *really* afraid of.

— Ursula Wolfe-Rocca (@LadyOfSardines) September 14, 2021
Video
Video of the full event, except the breakout sessions.

---
Audio
Listen to an audio recording of the session.
---
Resources
Here are many of the books, films, podcasts, and more recommended by the presenters and also by participants.
Related Books and Articles
Lessons and Curricula
Films
Podcasts
This Day In History
Music
"Freedom" by Grandmaster Flash and The Furious Five
"The Message" by Grandmaster Flash and The Furious Five
"Freedom" by Ras Kass and DJ Free Leonard
"False Knowledge" by South Seattle Swagger
This song is by a middle school duo from Seattle, Triple S (South Seattle Swagger) – Mc's Freeze 32 and Gucci Grape.
"Police Get Off My Block" by South Seattle Swagger
This song is by a middle school duo from Seattle, Triple S (South Seattle Swagger) – Mc's Freeze 32 and Gucci Grape.
Participant Reflections
What was the most important thing (story, idea) you learned today? 
Hearing about the patterns of resistance and creativity that we see in the history of hip-hop.
I liked the resources — songs, books listed. I also like the general community feel. It feels affirming knowing you're not the only one doing this work.
The importance of a diverse set of voices and perspectives within hip-hop culture when we are teaching it and the concrete political origins and ongoing engagement within hip-hop.
I loved how Jesse layers his convo facilitation to get at the tough stuff and the power/resistance message so we stay strong in the struggle.
That hip-hop is almost-always political. And while I didn't learn this today, what was reaffirmed is the essential nature of artists.
The tension between those who are trying to use hip-hop to teach and change things for the better and those who simply want to use it as a commodity, losing the message in the commercialization.
Positioning hip-hop in its rightful place in the struggle
The most important thing I learned today was that I was justified in my criticism of the absence of hip-hop music and culture in modern-day academia, given the fact that hip-hop (and other aspects of African-American history & culture) are the tastemakers of society today.
I have learned that the value of hip hop is not just for the Black and Brown community. It is for everyone to understand not just the culture of hip-hop but what our students value. This is important to connect with them on a higher level.
I think it was important to hear Davey D's statement on using hip hop in education, not being intimidated, even if you do not know the lyrics, showing that you truly understand the struggle behind the movement is powerful.
What will you do with what you learned?
First, dive into these resources. So much was shared, and I'm excited to bring them into my classroom. Second, find ways to make the resources digestible for second language students. My kids here have a genuine curiosity for all things foreign, and they will devour this information if it's presented in a way that they can process and interact with.
I will share these resources with my students in teacher education courses and use it myself in both education courses and my college history courses.
I will continue to use hip-hop to teach social justice to my students as well as allow them to use it to have a voice.
I am a new learner of hip-hop. Not ready/qualified to teach this material (yet). But will ask students many more questions and listen much more closely to the lyrics and names, and encourage them to see/find social justice potential in these. And I will keep learning.
Mindfully and intentionally inspire my students to practice courage and speak truth to power
I will use this info and the sources to build a unit on the history of hip-hop and protest.
I have a colleague teaching a history of hip-hop class this semester; I will check in with him to see what resources he is using and share the ideas that were gathered here. I'll also be listening to a lot more hip-hop. . . especially with our son, Charlie!
I plan to have my students analyze song lyrics the way we already do with poetry. They can then replicate the songs using their own lyrics and message.
Continue to look for ways to bring lyrics and songs to better understand political and cultural moments.  I need to be more intentional in the connections I make between "The Message" and the failures of the Reagan administration
I will get back into hip hop more. . . I've been looking for women MC's and I got a lot of references here… I'm so happy that politically engaged hip hop is alive and well. . . I want to study this in its global context through my own listening engagement.
This year I'll be teaching an elective for seniors called "Community Organizing: People, Power and Change". I plan to bring in hip hop history as a prime example of youth building power, resisting through creativity and joy along with actions like the gang treaties. I just ordered the YA version of Can't Stop Won't Stop — I've been buying and sharing the original version with people for years!
I am excited to finish the book and continue learning through the resources shared today. I am excited to add to my unit of protest music. Also the great idea I got from my breakout group to use the form of hip hop and protest music to has students tell the story of another part of history.
Additional Comments
I just want to say thank you to Jeff, Davey D, and Jesse for that amazing conversation, and a special thank you to Jeff and Davey D for your early support of my  journey with and love of hip hop. The high school where I teach is going through a lot right now and this reinvigorated me and gave me so much energy and inspiration, and I'm grateful that I can now bring that to my students. Thank you!!
This was awesome. Thank you so much, Mr. Davey D and Jeff. So nice to put a face to the voice I know from KPFA (Davey D). Thank you for awesome facilitation Jesse and Deborah and others for all of the behind-the-scenes.
Thank you so much for this event. I mentioned in the chat that I don't have access to many resources like this in China for PD. It was refreshing and motivating. I had the privilege of hosting Howard Zinn for a talk and small dinner at my university years ago, and the things discussed in this session, the format it took (interactive, open, helpful and actionable), the knowledge I gained from it. . . I found myself repeatedly thinking "This IS Zinn. This is an embodiment of everything that he fought for. This legacy is a perfect reflection of his work." Thank you so much for that.
Presenters
Jeff Chang is a graduate of 'Iolani School, the University of California at Berkeley, and the University of California at Los Angeles, and has written extensively on culture, politics, the arts, and music. 
Dave "Davey D" Cook is a nationally recognized journalist, adjunct professor at San Francisco State, hip-hop historian, political commentator, syndicated talk show host, radio programmer, media justice and community activist.
Jesse Hagopian teaches Ethnic Studies and is the co-adviser to the Black Student Union at Garfield High School in Seattle. He is an editor for Rethinking Schools, the co-editor of Teaching for Black Lives, and editor of More Than a Score: The New Uprising Against High-Stakes Testing.