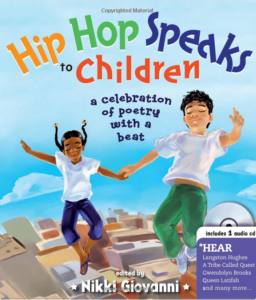 On Jan. 5, 1980, the song "Rapper's Delight" by the Sugarhill Gang (and reportedly Grandmaster Caz) became the first hip hop single ever to reach the Billboard Top 40.
Children can read and hear the song and many others from the history of hip hop in Hip Hop Speaks to Children: a celebration of poetry with a beat by Nikki Giovanni.
Publisher's description:
Hip Hop Speaks to Children is a celebration of poetry with a beat, created by National Book Award nominee, Spoken Word Grammy nominee and New York Times best-selling author Nikki Giovanni, who led an advisory board comprised of leading hip hop poet Willie Perdomo, Howard University professor Tony Medina and music specialist Michele Scott. Like Poetry Speaks to Children, the classic book and CD that started it all, this anthology is meant to be the beginning of a journey of discovery. Readers can immerse themselves in 51 selections from 42 poets and performers, and 30 performances on the audio CD, many recorded specially for this collection.
Hip Hop Speaks to Children presents powerful messages from all of these creative expressions, from James Weldon Johnson to Langston Hughes to Gwendolyn Brooks to Queen Latifah, and shows how rhythm and rhyme form a common thread among them.