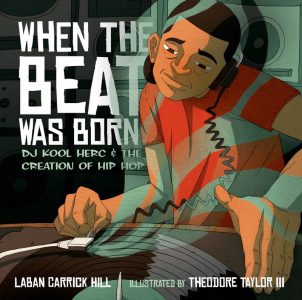 DJ Kool Herc brought hip hop to the Bronx, and from New York, it took on the world. Hip hop culture continues to shape fashion, music, and social movements. When the Beat Was Born: DJ Kool Herc and the Creation of Hip Hop is a bright children's biography that focuses on DJ Kool Herc. Herc's passion for music, dance, and rhythm shine through in this picture-book collaboration between author Laban Carrick Hill and illustrator Theodore Taylor III.
Following young Clive from his childhood in Jamaica to the parties that birthed a musical and cultural movement, we learn how little Clive became Kool Herc and is now known as the father of Hip-Hop. Using his father's sound system and hand-written invitations, Herc and his sister began a movement that is still growing today.
Hill's text engages readers with fast-paced storytelling while Taylor's illustrations march to their own beat, swirling with the movement of the B-boys and call outs. Ending with Herc in recent years, this text provides an opportunity for students to learn about history-in-the-making, as Herc continues to influence the hip-hop scene.
The text wraps with a timeline that features key points through the mid-80s when hip hop went mainstream. Laban Carrick Hill adds a personal note about his experience in the Bronx and the inspiration that hip hop continues to have on his own life. The final pages offer students an opportunity to dig into a short bibliography about hip hop, turning readers on to books, websites, and films that offer the opportunity to learn more.
This book is recommended for anyone seeking to learn more about the hip hop movement, the impact of young Clive becoming Kool Herc, and the after-effects of his music.
Critically acclaimed, When the Beat was Born's awards include:
2014 Coretta Scott King/John Steptoe Award for New Talent (Illustrator Theodore Taylor III)
2014 CBC/NCSS Notable Social Studies Trade Books for Young People Reading List
2014 IRA Notable Books for a Global Society
2014 Junior Library Guild Selection
2014 American Library Association Notable Children's Book
ISBN: 9781596435407 | Roaring Book Press
Description for the Zinn Education Project by Brianne Pitts.