We launched the Teach the Black Freedom Struggle online classes early in the pandemic. Since then, the series has become a crucial place for teachers to learn directly from cutting-edge people's history scholars and to build strength to resist attacks on education.
While the right is passing laws to suppress teaching of Black history, we provide classes so that teachers deepen their knowledge and gain mutual support, as one teacher noted.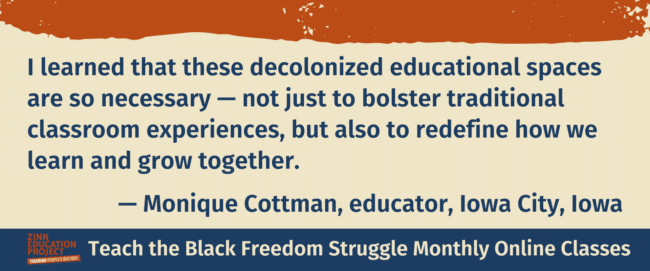 Check out the audiograms below for a 20-minute recap from last year's classes.
We have a dynamic list of scholars for the 2023–2024 season. Teacher educators: Assign these sessions to your students. Classroom teachers: Invite your colleagues and students to join you. Join this "freedom school" for educators.
Register
---
Catch Up In 20 Minutes!
You'll be amazed at how much you can learn in these two-minute audiograms from the 2022–2023 season. Share them with colleagues. Also, listen to the recordings of every class since 2020.
---
Register for the 2023–2024 Season!
Register