When I began brainstorming The Young People's Climate Conference unit, the 2015 United Nations Climate Conference in Paris had just ended; I thought about how I could use this significant event as a way to teach my students about climate change. Was this global concern too big and abstract to address with 3rd graders? How could I bring up an issue so complex, so gloom and doom? How could I not? I was concerned about how environmental issues are often taught to young children in a way that is artificially divorced from social concerns, and I felt learning about the pressing issue of climate change could not wait until my students were older.
With a majority African American and low-income student population, and a full-inclusion model, my school is known as one of the most diverse public charters in New Orleans. I wanted to not just teach what climate change is, but to frame it as a social and environmental justice issue my students could directly relate to and take action to change.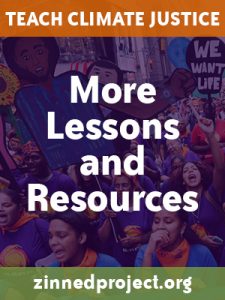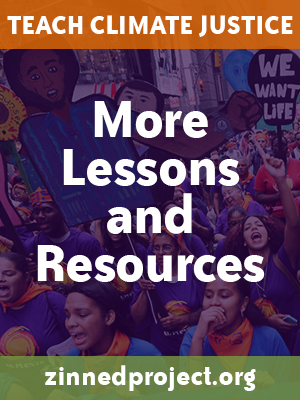 The inspiration for this unit came from Bill Bigelow's article "Climate Change Mixer." In the introductory activity, each student takes on the role of someone affected by climate change and, walking around the room, meets people from the world as they tell their stories based on short autobiographies. I was inspired by the active, yet profound way high school students were learning about the climate crisis and believed my 3rd-grade students could too.
I created a unit around a "People's Climate Summit" in which 3rd graders would present mostly underepresented voices of people around the world in a conference-like group performance. The conference was the culmination of students' learning about the topic, and led to students taking action around Congress' upcoming decision to adopt the U.N. agreement.
The individual roles in this mixer include:
Wangari Maathai, Green Belt Movement, Kenya
Roman Abramovich, Sibneft Oil Company, Russia
Enele Sopoaga, Prime Minister, Tuvalu
Matthew Gilbert, Member of the Gwich'in Tribe, Northern Alaska and Canada
Chris Loken, Apple Grower, New York
Rinchen Wangchuk, Snow Leopard Conservancy, Ladakh, India
Moi Enomenga, Huaorani leader, Eastern Ecuador
James Hansen, National Aeronau- tics and Space Administration (NASA) New York City
Richard H. Anderson, President of Delta Airlines, Atlanta
Trisha Kehaulani Watson, Environmental Lawyer, Hawaii
Nancy Tanaka, Orchard Owner, Hood River Valley, Oregon
Anisur Rahman, Mayor of Antarpara, Bangladesh
---
Teacher Stories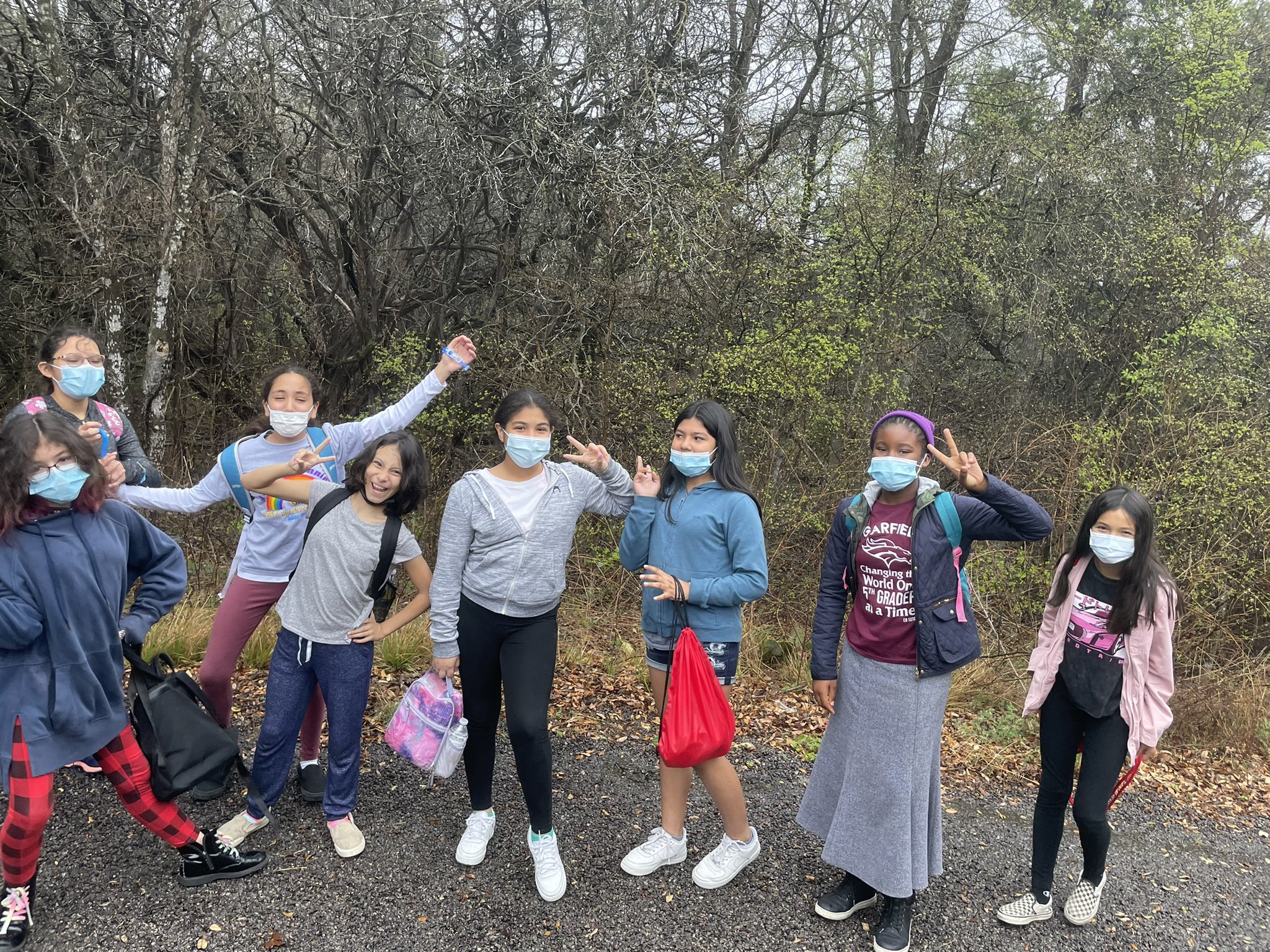 I've kept the Young People's Climate Conference in my back pocket until we got to the impact of people on environments. The lessons provided by my district were shallow at best, which bothered me, as this problem is affecting the very students in my class.
We first watched some Crash Course and TedEd videos to get our understanding of what climate change was before discussing how we see examples in our current world. The first thing to inevitably come up is the polar bears, which I don't mind, because it is a great jumping off point for younger students.
From polar bears to deforestation to pollution to smog, we had rich conversations about the effects of global warming. There was fear behind some questions: will we run out of fossil fuels? How will we survive? It's difficult to stand in front of these wide-eyed kids and say I'm unsure or "yeah, we will," but I pride myself on honesty. We also talked about greed and how this fuels the decisions people make around us.
We saw a picture of the UN Summit, observing all the leaders huddled around discussing the future of our world. I told them that leaders of countries all get to meet and talk about how we might solve climate change. I compared it to all the principals meeting to talk about their schools — who is missing?
"Us. You."
"Who spends the whole day in the classroom?"
"Us! You! That's not fair."
I agreed before introducing our activity: we would be playing the voices who were not heard at this conference. I paired them off, giving each a brief description of their characters to play up the intrigue. I knew my class loved to roleplay so this was right in our wheelhouse.
The assignment begins with a set of Google Slide questions where students introduce their character, tell how climate change affects them and their people, their opinion on it and anything else they want us to know. I saw two straight days of engagement as they compiled their character descriptions from the mixer sheets.
Our final product, the presentation, took place on Friday. Each student was given a "Find somebody who. . ." sheet to complete while their classmates were presenting. We set the scene of a big meeting between various nations and peoples, noting that everyone has a different story and that we need to listen to see whose stories were similar and different than our own.
They were so quiet and respectful of their peers as they went, asking questions after each presentation to clarify or expand. Some even asked questions that my students had to improv! I was pleasantly surprised by the level of detail each student put in and the thought that went into their slides.
We actually had a group of about 20 district personnel and community members come in during the last presentation — which was terrifying! But they handled it like pros, giving the most impassioned speech of the day about what is happening in Eastern Ecuador. It was one of the moments where you know you've done right by your kids.
Holistically, this project opened our eyes to the different impacts of climate change across the world better than any video or reading could have. I'm grateful to have this bunch of students who deeply care about our earth and want to make change.
—Taylor Davenport
Elementary School Language Arts/English Teacher, Austin, Texas
I used The Young People's Climate Conference: Teaching Global Warming to 3rd Graders by Rowan Shafer to teach about climate change, environmental activism, and issues related to land rights. I started by reading the article and lesson aloud to my students. We discussed the different topics covered, including the causes of climate change, the impacts of climate change, and the work of environmental activists. We also talked about the importance of protecting our land rights and the rights of Indigenous peoples.
After reading the article we did a number of activities to help students learn more about climate change and environmental activism. We created posters about climate change, wrote letters to our elected officials about the importance of protecting our environment, and participated in a walk-out to protest climate change. I was really impressed with the way my students responded to this article and lesson. They were engaged and interested in learning more about climate change and environmental activism. They were also excited to take action to protect our environment. I would definitely recommend this article and lesson to other educators who are looking for a way to teach their students about climate change. It is a great resource for teaching about a complex topic in a way that is engaging and age-appropriate.
—Kenyon Andrews
Elementary School Special Education Teacher, Lubbock, Texas
---

The article that accompanies this lesson was originally published by Rethinking Schools in Rethinking Schools: Volume 31, No.4 – Summer 2017.
---

---