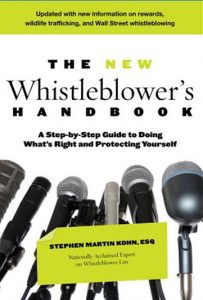 Every single day, American workers by the thousands report fraud, violations of environmental rules, health and safety hazards, and political corruption. The National Business Ethics Survey reports that 56% of workers admit to witnessing serious misconduct at work, and more than half of them take the first step to report it. But there exists a maze of confusing state and federal laws that govern whistleblowing. Ignorance of the proper steps to expose wrongdoing too often leads to silence, lost court cases, public embarrassment, and a failure to effect real change. But when done right, whistleblowing has strengthened democracy, protected the environment, and saved taxpayers and investors billions of dollars. Modern whistleblower laws have created a powerful tool for effective grassroots participation.
From the nation's leading whistleblower attorney, comes the first-ever consumer guide to whistleblowing. In The Whistleblower's Handbook, Stephen Martin Kohn explains nearly all federal and state laws regarding whistleblowing and set forth twenty-one basic rules every potential whistleblower needs to know.
The Whistleblower's Handbook, first published in 2011 and updated several times since, is the authoritative reference for anyone who has ever wondered how they might blow the whistle — and, once they've done so, how to prevail. [Publisher's description.]
ISBNL 9780762763733 | Lyons Press
Note: The book was written by National Whistleblowers Center Executive Director Stephen M. Kohn. When Stephen Kohn, his brother Michael Kohn, and David Colapinto decided to form the National Whistleblowers Center (NWC), Howard Zinn joined them (as did South African poet and activist Dennis Brutus). Zinn remained a Board member of NWC for the remainder of his life, just as he supported whistleblowers throughout his professional life.