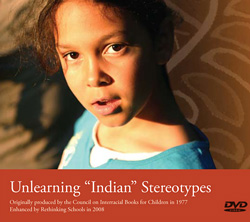 Narrated by Native American children, the DVD Unlearning "Indian" Stereotypes teaches about racial stereotypes and provides an introduction to Native American history through the eyes of children.
In addition to the digitized filmstrip, this DVD also includes:
A transcript of the DVD with teaching notes from the original teacher guide published in 1977
Photos from the filmstrip that teachers can reprint and use in print or digital presentations
"Teaching Native American Issues in an Elementary Classroom" by Bob Peterson, from Rethinking Columbus: The Next 500 Years
"Teaching Young Children about Native Americans" by Debbie Reese
Recommended resources
Useful for elementary through adult education.
Originally produced by the Council on Interracial Books for Children in 1977. Enhanced by Rethinking Schools in 2008.