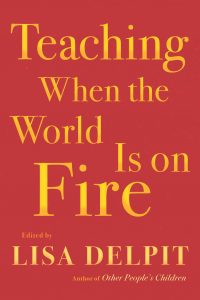 In Teaching When the World Is on Fire, Lisa Delpit (author of Other People's Children) curates a collection of essays to tackle a host of crucial issues facing teachers in these tumultuous times.
Delpit's master-teacher wisdom tees up guidance from beloved, well-known educators along with insight from dynamic principals and classroom teachers tackling difficult topics in K–12 schools every day.
This honest and rich collection brings together essential observations on safety from Pedro Noguera and Carla Shalaby; incisive ideas on traversing politics from William Ayers and Mica Pollock; Christopher Emdin's instructive views on respecting and connecting with black and brown students; Hazel Edwards's crucial insight about safe spaces for transgender and gender-nonconforming students; and James W. Loewen's sage suggestions about exploring symbols of the South; as well as timely thoughts from Bill Bigelow on teaching the climate crisis — and on the students and teachers fighting for environmental justice.
Teaching When the World Is on Fire can inspire teachers to support their students in navigating the current events, cultural shifts, and social dilemmas that shape our communities and our country. [Publisher's description.]
The book includes a lot of articles from Rethinking Schools authors and one piece from Teaching for Change.
ISBN: 9781620974315 | The New Press
---
Receive a free copy of
Teaching When the World Is on Fire
when you submit your Zinn Education Project classroom story.
Find out more
.