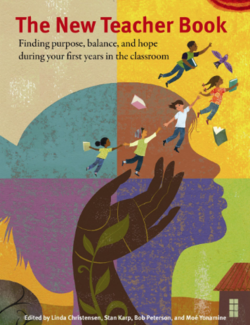 This expanded third edition of The New Teacher Book grew out of Rethinking Schools workshops with early career teachers. It offers practical guidance on how to flourish in schools and classrooms and connect in meaningful ways with students and families from all cultures and backgrounds.
Introduction Excerpt
When the editors of Rethinking Schools first conceived of this book, we thought back to our days as new teachers. We hoped to create the book we needed in those sometimes exhilarating, sometimes lonely, often hard first days of our teaching careers. This book is meant as a conversation among colleagues. We hope it is a conversation that helps you keep your vision and values intact as you struggle in institutions that may or may not be those citadels of idealism where you imagined yourself teaching.
We wrote this book because it's important for the profession that new teachers with social justice ideals stay in the classroom. Our communities need teachers who see the beauty and intelligence of every student who walks through their doors and who are willing to keep trying to reach those who have already been told they aren't worthy. Our students need teachers who value students' home languages and who know how to build academic strength from those roots.
We need teachers who learn how to develop curriculum that ties students' lives, history, and academic disciplines together to demonstrate their expertise when top-down curriculum mandates explode across a district. Our school districts need teachers who can advocate against the dumbing-down of curriculum, against testing mania, and against turning our classrooms over to corporate-created curriculum. Our country needs teachers who understand the connections between race, class, and tracking. How else do we make a lasting change? Continue reading.
ISBN: 9780942961034 | Rethinking Schools