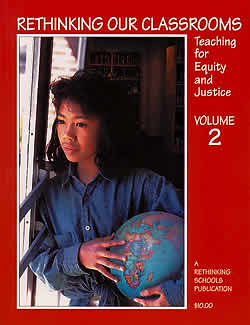 This companion volume continues in that tradition, presenting a rich new collection of from-the-classroom articles, curriculum ideas, lesson plans, poetry, and resources — all grounded in the realities of school life.
Rethinking Our Classrooms, Volume 2 is an essential book for every educator who seeks to pair concerns for social justice with students' academic achievement.
Praise
"A vital, useful, and empowering anthology of some of the best stuff about schools I have read in 30 years. I hope it reaches the vast audience it deserves." —Jonathan Kozol, author of Ordinary Resurrections and Savage Inequalities
"With Volume 2, Rethinking Schools continues its bold, unflinching confrontation of vital school issues and actions. Honest and clear treatments by great authors go to the core of matters of equality and justice. Rethinking Schools continues to set the standard for advocacy for our children." —Asa G. Hilliard III – Nana Baffour Amankwatia II, Fuller E. Callaway Professor of Urban Education
ISBN: 9780942961270 | Rethinking Schools | Order the two volume set.