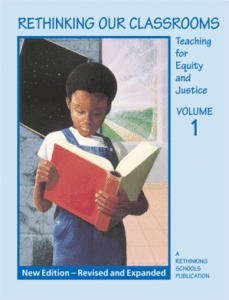 Creative teaching ideas, compelling classroom narratives, and hands-on examples show how teachers can promote the values of community, justice, and equality while building academic skills.
Includes:
Building Community From Chaos
Race and Respect Among Young Children
Why Students Should Study History: An Interview with Howard Zinn
Taking Multicultural, Anti-Racist Education Seriously
Unlearning the Myths that Bind Us: Critiquing Cartoons and Society
Teaching Standard English: Whose Standard?
Teaching About Global Warming in Truck Country
Math, SATs, and Racial Profiling
Students Mobilize for Immigrant Rights
Equity Claims for NCLB Don't Pass the Test
Why We Need to Go Beyond the Classroom
The revised and expanded edition includes new essays on:
science and environmental education
immigration and language
military recruitment
teaching about the world through mathematics
gay and lesbian issues.
A great resource for new and veteran K–12 teachers, as well as teacher education and staff development programs.
ISBN: 9780942961355 | Rethinking Schools