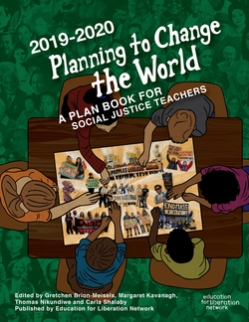 Planning to Change the World: A Plan Book for Social Justice Teachers is a plan book for educators who believe their students can and will change the world. New editions are produced annually and designed to help teachers translate their vision of a just education into concrete classroom activities. The weekly planning pages feature dates and anniversaries from the history of struggle for justice along with references to online resources you can use to teach about those dates. It also includes inspirational quotes, discussion questions to share with students, and more.
Reviews
"An imaginative and innovative idea in the field of education. . . I hope it will be widely adopted." —Howard Zinn, author of A People's History of the United States
"This book, with its wisdom, inspiration, and resources, could not have come at a better time! Every teacher — novice, veteran, and in-between — will love Planning to Change the World." —Sonia Nieto, Professor Emerita, University of Massachusetts, Amherst
"Finally, a plan book that is enlightening, provocative and fun." —Lisa Delpit, author of Other People's Children
"After 18 years in the classroom I have found a planning book that treats teaching as an art form.  On virtually every page of this book, I find myself challenged and inspired to think more deeply about the importance of what I do every day in the classroom." —Jeff Duncan-Andrade, Assistant Professor of Raza Studies and Education Administration at San Francisco State University and high school teacher
"Are you planning to change the world? Before you change it, take a look at Planning to Change the World. It  might be just the help you were looking for." —Bob Moses, founder of the Algebra Project
"This book is one of the gifts I give new teachers." —Linda Christensen, author of Reading, Writing, and Rising Up
"A practical resource that can help teachers be more than merely effective practitioners; it can serve as a guide for approaching teaching in a way that is truly transformative." —Pedro Noguera, author of City Schools and the American Dream
"To create a more just and equitable world. . . we need new tools that are as practical as they are thoughtful.  This social justice planner is one of those tools!" —Tony Smith, Superintendent, Oakland Unified School District
"Useful, hopeful and visionary, Planning to Change the World is just what every radical teacher needs." —Wayne Au, Rethinking Schools
Published by the Education for Liberation Network and Rethinking Schools.