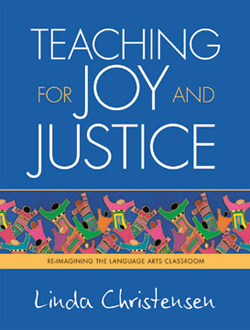 Teaching for Joy and Justice is the sequel to Linda Christensen's bestselling, Reading, Writing, and Rising Up. Christensen is recognized as one of the country's finest teachers.
Through story upon story, Christensen demonstrates how she draws on students' lives and the world to teach poetry, essay, narrative, and critical literacy skills. Teaching for Joy and Justice reveals what happens when a teacher treats all students as intellectuals, instead of intellectually challenged. Part autobiography, part curriculum guide, part critique of today's numbing standardized mandates, this book sings with hope-born of Christensen's more than 30 years as a classroom teacher, language arts specialist, and teacher educator.
Practical, inspirational, passionate: this is a must-have book for every language arts teacher, whether veteran or novice. In fact, Teaching for Joy and Justice is a must-have book for anyone who wants concrete examples of what it really means to teach for social justice.
Film Clip: Author Linda Christensen describe why the book addresses teaching for joy and justice.
Reviews
Linda Christensen creates passionate curriculum, centered on the lives and voices of her students. In Teaching for Joy and Justice she shows us how her students come to celebrate their own writing, value themselves, and stand up for others. Writing is embedded in curriculum that matters, in discussion about big ideas, and in literature rich with the full range of human experience. It's a language arts teacher must-read! —Allen Webb, Professor of English Education, Western Michigan University and author of Literature and Lives and Literature and the Web
Linda Christensen gets it. She understands writing is a medium through which human beings convey their passions, hopes and dreams. Christensen provides practical advice to teachers with an understanding that when our students learn to write they experience a sense of joy and fulfillment. —Pedro A. Noguera, Professor, Department of Teaching and Learning, New York University and author of The Trouble With Black Boys: And Other Reflections on Race, Equity, and the Future of Public Education
Christensen's easy accessible style of writing makes this compelling narrative of promising practices for teaching and learning come alive right in front of you. With each page, each chapter, I instantly felt I knew Michael, Ananiah, Kayla, Jessica, and so many other students from her days of teaching and learning at Jefferson and Grant High Schools. I also saw my own students, my own classrooms-different names, different cities, but the same challenges, burdens and promises tapped and untapped. Each chapter is steeped in realistic and responsible instructional practices born out of authentic experiences in real classrooms. This must have book reminds all educators that there is both joy and justice in teaching and learning when we allow ourselves to learn from teaching. —Vanessa G. Brown, Director, Philadelphia Writing Project
In these pages, Linda Christensen — consummate teacher and brilliant writer — shows us that, in the end, teaching well is about awakening and transformation. Through lively vignettes and stirring writing by both teacher and students, this book exudes hope and possibility. —Sonia Nieto, Professor Emerita, University of Massachusetts, Amherst and author of Why We Teach and What Keeps Teachers Going?
Teaching for Joy and Justice gives teachers the inspiration and 'how to' nitty-gritty we crave. We find names of texts that compel, high school student writing that calls out to teenage reality, techniques for teaching how to write poems, narratives, essays. And everything presented sits resolutely under the social justice umbrella: issues of race, class, language, gender-oh yes, they do matter. —Faye Peitzman, Director, UCLA Writing Project
ISBN: 9780942961430 | Rethinking Schools