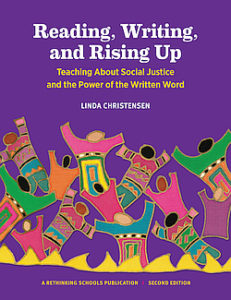 "My students walk out the school door into a social emergency," Linda Christensen writes. "They are in the center of it. I believe that writing is a basic skill that will help them both understand that emergency and work to change it."
For more than a decade, teachers have looked to Reading, Writing, and Rising Up: Teaching About Social Justice and the Power of the Written Word as a trusted text to integrate social justice teaching in language arts classrooms. This accessible, encouraging book has been called "a profound work of emancipatory pedagogy" and "an inspiring example of tenacious and transformative teaching."
Now, Linda Christensen is back with a fully revised, updated version. Offering essays, teaching models, and a remarkable collection of student writing, Christensen builds on her catalog of social justice scholarship with a breathtaking set of tools and wisdom for teachers in the new millennium.
The new edition includes:
Updated classic chapters: "Unlearning the Myths that Bind Us" and "Standard English: Whose Standard?"
New essays and strategies on teaching literature, the college essay, and the revision of student writing.
Lessons for teaching about gentrification, displacement, and historical fiction.
Evocative new pieces of student essays, narrative, and poetry.
Read an interview with Linda Christensen about the new edition.
What role did the classroom play in the second edition?
The classroom is my source of inspiration. Out of the classroom I can create curriculum, but I need to observe students, listen to their class talk, and read their pieces to determine whether the lessons land or fall with students. I needed to see how lessons resonated with students today versus students 20 years ago. I keep returning to the classroom because it's where I find my joy. I can't think about teaching in isolation, away from classrooms. Continue reading.
Praise for the 2003 Original Edition
"What a good and useful book! Read these beautifully written chapters and show them to teachers, so we can become the educators needed by our students. Linda Christensen . . . gives us the tools to teach meaningful classes, to build good schools, and to work for a just society." —Ira Shor, professor of English at City University of New York, and author of, Empowering Education and When Students Have Power.
"At long last, we have a book that both shows and tells how to teach students to produce not only 'pretty words and adept dialogue,' but 'searing analysis.' This profound work of emancipatory pedagogy brings together theory, classroom practice, personal narrative, and student work. . . a must-read for every teacher seeking to reach students that are 'unreachable.'" —Geneva Smitherman, University Distinguished Professor at Michigan State University, and author of Talkin' That Talk: Language, Culture, and Education in African America
ISBN: 9780942961690 | Rethinking Schools