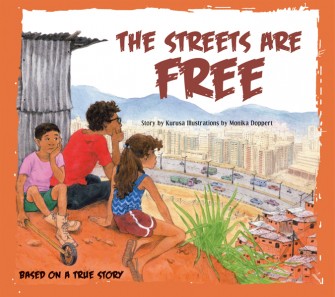 For the children of the barrio of San José de la Urbina in Caracas,Venezuela, their only playground is the busy streets. Where once there were fields and streams, the landscape is now defined by office towers, sewers and highways.
With the help of the local librarian, the children ask the mayor for a vacant lot to build a playground, but all they get are empty campaign promises. Even when a reporter's news story brings the mayor out to launch the project, nothing further happens.
Finally, undeterred by the obstacles in their path, the kids rally family, friends and neighbors, who unite to create a space that they can call their own.
Based on a true story, The Streets Are Free, stands as a testament to the power of perseverance, commitment and teamwork as a means of overcoming political resistance. Originally published in 1985, this story is now back in print.
Kurusa is the pseudonym of a Venezuelan anthropologist and editor. Monika Doppert is an award-winning artist and the illustrator of several books for children. [Publisher's description.]
ISBN: 9781550373707 | Annick Press
Awards
Skipping Stones Book Award
2009 Horace Mann Book Awards Honor Book
Review
From Library Thing: This delightful and empowering book is my favorite storybook in my extensive multicultural library that I've grown over the decades for my inner-city classroom. It tells the true Venezuelan story of children who, with the help of the librarian, organize themselves a play space. Remarkably, it relates the two needed strands of organizing: pressuring the government (or other power structure) to do its job, and bringing the community together to do what the government can't.