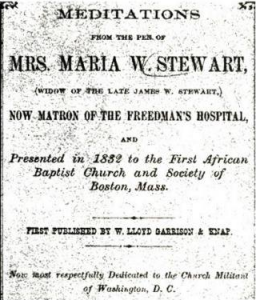 Maria Stewart is considered a pioneer of African American activists. She began writing and lecturing against slavery in the early 1830s. In her speech she speaks out not only against slavery but also against the sexism and the degradation of women's work.
Film Clip Description
Maria Stewart's Address Delivered at the African Masonic Hall in Boston (February 27, 1833), is read by Alfre Woodard Feb. 1, 2007, at All Saints Church, Pasadena, Calif. The excerpt is from Voices of a People's History of the United States edited by Howard Zinn and Anthony Arnove.
More video clips can be found at the Voices of a People's History website and in the film The People Speak.