---
Streaming free here: vimeo.com/393968075 Use password: MAESTRA_WMM_2020 (case sensitive)
---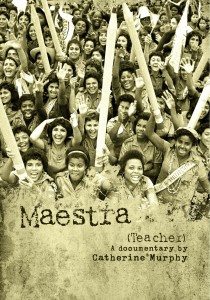 This brief and engaging documentary tells the story of 100,000 Cuban teenagers, most of them girls, who participated in Cuba's 1961 literacy campaign. Historical footage and current-day interviews bring the campaign to life. Most compelling to U.S. students will be the stories of the girls themselves, many of them middle school age, who left their families to take on major responsibilities far away.
Fifty years later, the brigadistas reminisce about the independence and self-confidence they gained from the great adventure and the trust the country placed in them — in one year, they taught more than 700,000 people to read and write! (In English with voiceovers.)
And, as long as we're mentioning literacy campaigns, this is an opportunity to pass along a reminder of one of our favorite books: And Also Teach Them to Read, by Sheryl Hirshon (Lawrence Hill and Co., 1983), a first-person narrative of the 1980 Nicaraguan literacy campaign — filled with humor, insight, and inspiration. [Description from Rethinking Schools.]
Trailer
Maestra The Film ( trailer ) from Manouche on Vimeo.
Narrated by Alice Walker, Maestra (Spanish for teacher) explores the experiences of nine women who, as young girls, helped eradicate Cuban illiteracy within one year. Interweaving recent interviews, archival footage, and campaign photos, this lively documentary includes one of the first Cubans of her generation to call herself a feminist and one of the first openly proud members of Cuba's LGBT community. With wit and spirit, all recall negotiating for autonomy and independence in a culture still bound by patriarchal structures.
Eight years in the making, Maestra highlights the will and courage that made the monumental endeavor possible and the pivotal role of women's and youth empowerment in building a new society. [Women Make Movies description.]
Learn more about the film at the Maestra website.
Produced by The Literacy Project. Distributed by Women Make Movies.
Purchase or Stream
Photo Album
With thanks to the Maestra filmmaker, Catherine Murphy, here are more photos from the Cuban Literacy Campaign.
Film Reviews
Catherine Murphy has created a project with rare and intimate access….Her film will preserve the oral histories of a generation that will soon be gone. The historical significance of this archive — and its lessons for the present — cannot be overstated. —Howard Zinn
MAESTRA is a compelling and beautifully filmed reconstruction of one of the most significant campaigns in Cuban history. —NACLA Report on the Americas
This film will make a significant contribution to our understanding of our neighbor nation of Cuba — as well as literacy itself — and serve as an important tool in the struggle for justice. —Dolores Huerta
Catherine Murphy's project rescues the most important literacy experience in the Americas. —Eduardo Galeano
MAESTRA is a celebration of the joy of teaching and learning despite all obstacles. —Progreso Weekly
[T]his excellent documentary artfully examines the campaign's effect on women and how it enabled them to challenge traditional gender norms. The film is an excellent addition to any syllabus on the Cuban Revolution as well as on revolutionary transformation and revolutionary societies generally. —The Americas: A Quarterly Review of Latin American History
Eduardo Galeano on the Literacy Campaign

Eduardo Galeano on Literacy from Catherine Murphy on Vimeo.
---
Life Today
Read "How life has changed for these Cuban women over 20 years" by Deepa Fernandes via PRI