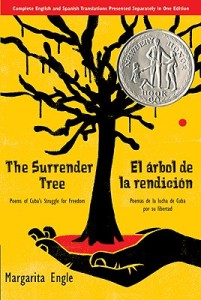 This haunting book of free verse by Margarita Engle tells the story of Rosa la Bayamesa (Rosa Maria Castellanos,1834-1907), a nurse who uses medicinal plants and herbal remedies to help heal soldiers, slaves, rebels, and refugees during Cuba's three wars for independence from Spain, 1868-1898.
Based on actual events and real people, the poems in Surrender Tree outline Rosa's life: born into slavery; learning about healing plants and flowers; through 30 years of war as a self-appointed nurse; seeking freedom; and fighting death and sickness with her natural potions.
The author uses several voices to convey the longing for freedom, the hope for peace, the fear of detection, and the sorrow and horror of war. These include: Jose Varona, (freed from slavery), marries Rosa and helps her establish (and hide) makeshift hospitals in forests, mountains, and caves; Silvia, a young refugee, escapes the reconcentration camp* and joins Rosa to serve as a nurse and learn the healing cures; and the man known as the Lieutenant of Death, who has grown up hunting people who had escaped from slavery, vows to find and kill Rosa to eliminate the symbol of hope and resistance she has become.
The alternating perspectives both refine the characters and dramatically move the narrative forward. The verse is clear, concise, and compelling. This is a wonderful book, powerful and simple at the same time.
The author offers a personal connection and a historical note and timeline at the back of the book that helps the reader realize that real people faced these fears and hardships. The book offers an excellent way to introduce and promote discussion of historical events such as Cuba's fight for independence, the Spanish-American war, and slavery. This is that rare book where the remembrance of it is even more powerful than the reading of it. [Reviewed by Ellen Simmons, The Lorgnette – Heart of Texas Reviews from CLCD].
ISBN: 9780312608712 | Square Fish
*In 1896, General Weyler of Spain implemented the first wave of the Spanish "Reconcentracion Policy" that sent thousands of Cubans into concentration camps. Under Weyler's policy, the rural population had eight days to move into designated camps located in fortified towns; any person who failed to obey was shot. The housing in these areas was typically abandoned, decaying, roofless, and virtually uninhabitable. Food was scarce and famine and disease quickly swept through the camps. By 1898, one-third of Cuba's population had been forcibly sent into the concentration camps. More than 400,000 Cubans died as a result of the Spanish Reconcentration Policy. [Description from PBS.]