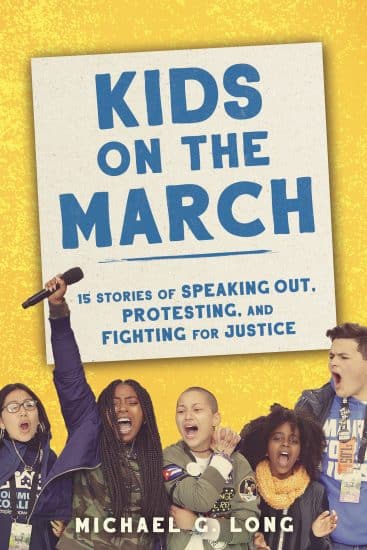 Children have always been activists. They have launched movements. Long before they can vote, kids speak up, walk out, go on strike, and march for racial justice, climate protection, gun control, world peace, and more.
In Kids on the March, author Michael G. Long tells the stories of these protests, from the March of the Mill Children, who walked out of factories in 1903 for a shorter workweek, to 1951's Strike for a Better School, which helped build the case for Brown v. Board of Education, to the twenty-first century's most iconic movements, including March for Our Lives, the Climate Strike, and the recent Black Lives Matter protests following police murder of George Floyd.
Among others, Long features the following young changemakers:
Fifteen-year-old Barbara Johns, who in 1953 organized a school strike protesting the poor conditions of her all-Black high school in Farmville, Virginia, paving the way for Brown v. the Board of Education and beginning the process of school desegregation.
Thirteen-year-old Mary Beth Tinker and her older brother John, who protested the Vietnam War in 1965 by wearing black armbands to school. When the school punished them for expressing their "controversial" beliefs, they stood their ground, leading to Tinker v. Des Moines, the Supreme Court case that now guarantees free speech in public schools.
Thirteen-year-old Anna Lee Rain Yellowhammer, who in 2016 petitioned to stop the Dakota Access Pipeline that threatened to pollute the drinking water of the Standing Rock Sioux Tribe in North Dakota. The battle to permanently stop this pipeline continues, but due to Anna and her fellow protestors, it has been put on hold until a full environmental assessment is completed.
Eighteen-year-old Emma González and her classmates, who demanded an end to gun violence after a tragic shooting at their high school in Parkland, Florida in 2018. While their fight for gun legislation continues to this day, the Parkland students raised global awareness of this issue, sparking 750 rallies in every state and every continent except Antarctica.
Sixteen-year-old Shayna Avery and her friends, who called upon their community in Berkeley, California, to join the "Stand with Black Youth March" in 2020, after George Floyd was murdered by a police officer in Minneapolis, Minnesota.
[Description adapted from the publisher.]
ISBN: 9781643751009 | Algonquin Books
Read more stories in the online collection And the Youth Shall Lead Us: 16 Stories of Young People on the Frontlines of U.S. Social Movements.