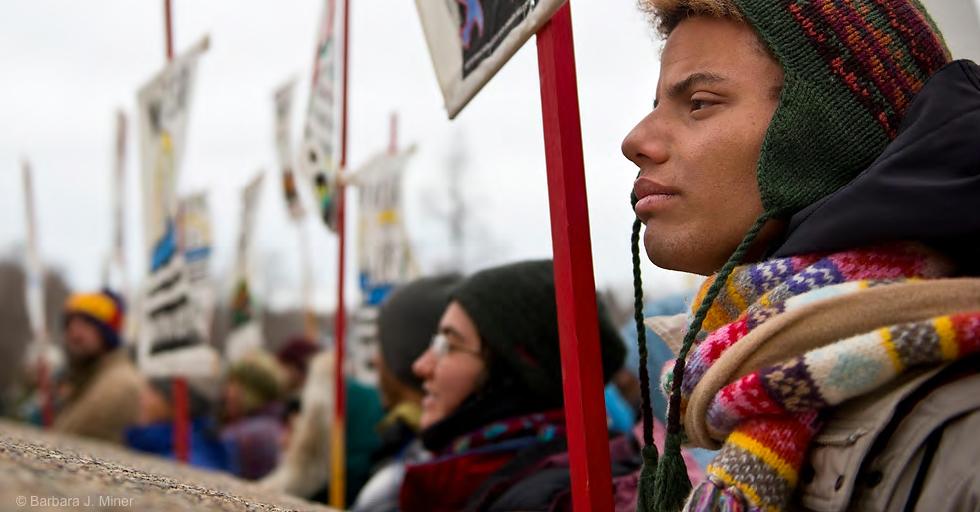 This week saw three victories in the fight against fossil fuels and for Indigenous rights. The Atlantic Coast Pipeline, which would have run a natural gas line along the Appalachian Trail, was abandoned by dirty-energy giants Duke and Dominion, citing threats to the "economic viability of the project."
The Supreme Court upheld a lower court's ruling that an extension to the Keystone XL pipeline requires a full environmental impact statement. And a federal judge ruled that the Dakota Access Pipeline, which led to the historic Standing Rock protest encampment in 2016, must be immediately shut down and all its oil removed, pending a full environmental review.
Lumbee Nation elder and activist Donna Chavis called the Atlantic Coast Pipeline win — and the larger movement for environmental justice — a "David versus Goliath struggle."
This description also applies to the fight to make Indigenous-led fossil fuel resistance movements part of our curriculum. Between corporate textbook misinformation, content standards that are silent on contemporary Native Peoples, and the siloing of climate change to science classes, it takes organizing to #TeachClimateJustice.
Below are resources and lessons to help you.
In this role play, students learn about the historic movement to stop the Dakota Access Pipeline, including the backstory behind this week's federal ruling against Energy Transfer Partners and the Army Corps of Engineers.
Watch/listen to Standing Rock Sioux elder and activist LaDonna Brave Bull Allard and movement lawyer Tara Houska talk about the significance of this week's #NoDAPL ruling on Democracy Now!
In this lesson, students grapple with who will benefit and who will suffer from the Keystone XL Pipeline project.
As activist and Lumbee elder Donna Chavis explained this week, these pipeline projects are examples of environmental racism:
Native American, African American, and other affected communities along the route of the Atlantic Coast Pipeline have prevailed in their David versus Goliath struggle . . . and they have no tolerance for fossil fuel projects that poison the bodies, the land, the air, and the water of Indigenous, Black, and Brown communities.
In this lesson, students read, analyze, and discuss one Mississippi woman's account of discovering that her own family had been poisoned by environmental racism.