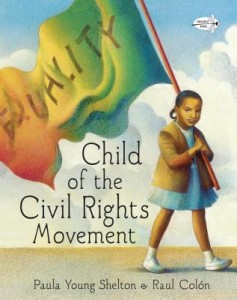 Teaching historical events in an accurate and nuanced way can be challenging for early elementary teachers when mob violence and complex philosophical controversies are a central part of the story. Teaching the history of the modern Civil Rights Movement is particularly difficult because parts of the story have become absorbed as mythology into the mainstream culture.
Therefore, it is a joy to read Child of the Civil Rights Movement by Paula Young Shelton and Raul Colon. Who better to tell the story than a first-grade teacher whose parents were on the front lines of the Movement?
Shelton and Colon's book is physically and lyrically beautiful. More importantly, it is written in a way that will resonate emotionally with young children without lying to or scaring them. While it highlights the superstars at the expense of the everyday people who fueled the Movement, the book also places children into the story and lends a humanity and community to the people in leadership without being saccharine.
This is a lovely and long-awaited book. [Review by Jenice L. View, George Mason University, Teaching for Change, senior professional development specialist].
Bank Street College of Education Best Children's Book of the Year.
ISBN: 9780385376068 | Schwartz and Wade/Random House