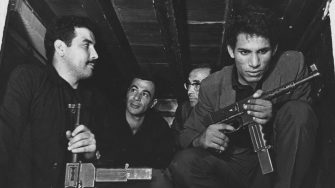 The Battle of Algiers documents the Algerian revolt against the French in 1954–1962 and the armed insurgency against the French colonial powers in Algiers. Both sides are drawn into a prolonged conflict, as violent attacks and ensuing acts of retaliation continue for months.
Opening in 1957, near the end of its narrative, the film introduces rebel leader Ali La Pointe (Brahim Haggiag) as he hides from the French police, then quickly flashes back to three years earlier, showing how Ali either developed a conscience or became radicalized, according to ideology. He's just one character in a broad tapestry, however, and The Battle Of Algiers jumps around as necessary to follow the progress of what would become the Algerian War, introducing new players as it goes.
The film divides its attention fairly evenly between the insurgents, whose tactics include acts that can only be called terrorism, and the state, which regularly engages in torture and outright murder.
Figures on both sides are worthy of admiration — Ali's counterpart among the paratroopers is the shrewd, ruthless Lieutenant-Colonel Mathieu (Jean Martin) — but this is decidedly war-is-hell territory, with a special emphasis on the uniquely ghastly nightmare that is guerrilla warfare.
[Description adapted from
The A.V. Club review]
Trailer
This film is currently available on HBO Max.
Another option for viewing this film is Kanopy, where you can access films for free through your library membership.
Learn More
Terrorism on Screen: Lessons from The Battle of Algiers by Ron Briley in Perspectives on History from the American Historical Association.