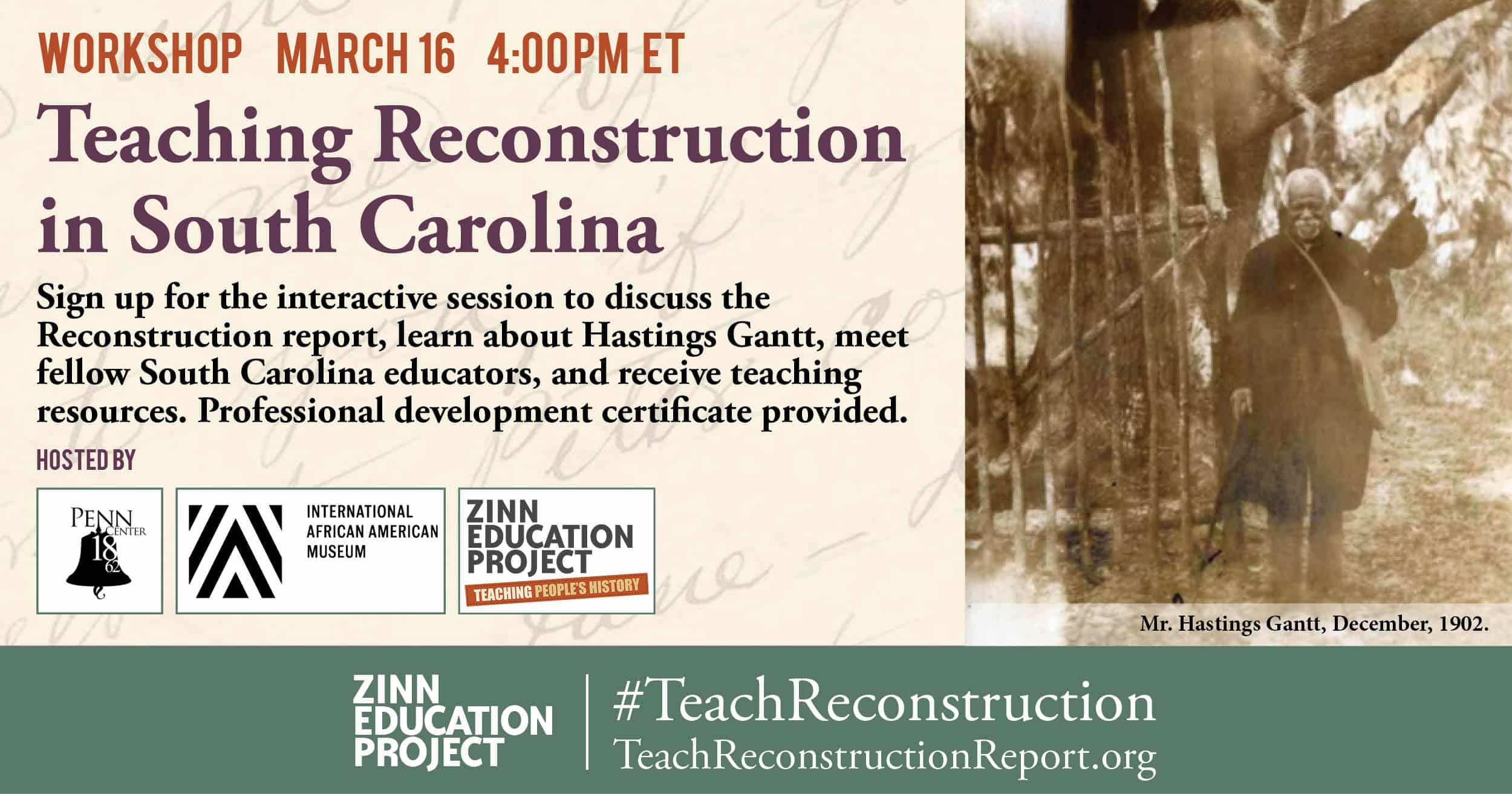 Educators in South Carolina are invited to participate in a workshop on teaching Reconstruction. This is the first state-based workshop on the release of the national report, Erasing the Black Freedom Struggle: How State Standards Fail to Teach the Truth About Reconstruction.
The free, interactive, 75-minute online session will include an opportunity to examine the report findings for South Carolina, learn about Hastings Gantt (who donated the land for the Penn School), and discuss approaches to teaching Reconstruction with fellow South Carolina educators.
Teachers will receive a professional development certificate and resources for teaching about Reconstruction, including images from the Penn Center Archives.
The workshop is hosted by the Penn Center, the Zinn Education Project, and the International African American Museum.
Presenters and Facilitators Include
Deloris Pringle, chair of the historic Penn Center Board of Trustees and steering committee member of a Mellon funded partnership with UGAs' Willson Center for Humanities and Arts titled Culture and Community at Penn Center.
Ursula Wolfe-Rocca, writer and organizer with the Zinn Education Project, author of lessons on redlining, COINTELPRO, reparations, Red Summer, McCarthyism, voting rights, and more. More.
Urshula Barbour is cofounder of the multidisciplinary design studio Pure+Applied, the organization that developed a plan for Penn Center campus in 2020. Urshula and her partner, Paul Carlos, have researched the life and work of Hastings Gantt. In the future, they will share their research on a publicly accessible timeline.