We waited a long time for those folks to do something to improve our schools, but they let us down and so we have decided to do the job ourselves. — Jefferson High School student, 1968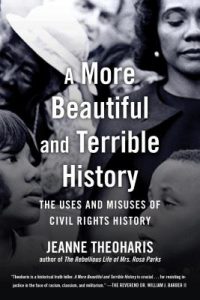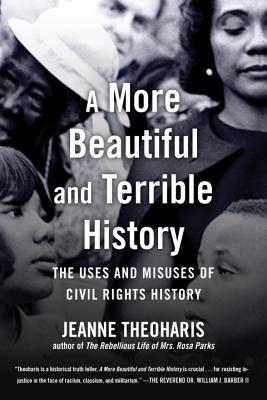 The quote above opens Jeanne Theoharis' chapter in A More Beautiful and Terrible History: The Uses and Misuses of Civil Rights History on young people in the Civil Rights Movement. That chapter also formed the basis for her People's Historians Online conversation with Rethinking Schools editor Jesse Hagopian on April 10, 2020.
This was the second in our series on the Black Freedom Struggle: From Reconstruction to the Civil Rights Movement.
About 150 people joined the discussion, including teachers, parents, students, historians, and community activists. Jeanne talked about the role of teenagers, including Barbara Johns, Claudette Colvin, and the students in the high school walkouts. She noted that many of the Student Nonviolent Coordinating Committee activists were teenagers when they took on organizing in places that everyone else deemed impossible.
Contemporary Youth Activists
To highlight the ongoing role of young people, Jeanne and Jesse welcomed two contemporary high school activists: climate justice and educational equity activist Karma Selsey of New York City's Teens Take Charge and Jaeden Thomas, a member of Seattle's NAACP youth council. Selsey talked about a campaign to pressure the mayor to provide students access to enrichment opportunities over the summer. The petition was posted in the chat box and signatures poured in from the session participants. Thomas talked about the fight for ethnic studies in Seattle Public Schools and suggested people follow @Wastatenaacpyouth on Instagram.
Session Highlights in a Tweet Thread
This tweet thread by Ursula Wolfe-Rocca provides highlights and quotes from the session.
So lucky & excited to be learning abt the role of teenagers in the Civil Rights Movement from @JeanneTheoharis, historian & author & editor of many books, in conversation w/ my friend, fellow-teacher, activist, & @RethinkSchools editor, @JessedHagopian. https://t.co/0rDXD4qDs7

— Ursula Wolfe-Rocca (@LadyOfSardines) April 10, 2020
Recording
A recording of the full session (except for the breakout rooms) can be viewed below.
Breakout Session Discussions
During the breakout sessions, participants highlighted a number of questions, including:
Is there a map somewhere of youth school boycotts or walkouts? Kind of like the Indigenous peoples day map on the Zinn Ed Project site? [At ZEP we don't know of one, but it would make a great student National History Day project.]
We talked about things we taught/learned in our classroom, but also the importance of students being directly involved in organizing/activism (not just reading about it). Some key questions from our breakout group: How can teachers make sure students feel empowered day to day? What are teachers doing to do that right now? What would it look like for students to lead a movement now in this moment especially around equity in education?
How do the youth know where to start? How does one start organizing?
How do young people stay involved during social distancing?
Reflections and Lessons Learned
Participants shared what they learned and appreciated about the session in their closing evaluation. Here are some examples:
I had no idea how much of an impact youth have had on the Civil Rights Movement. It was shocking since at school we only focus on big figures like Martin Luther King Jr.
Leaving the contributions of young people out of the narrative of history helps reinforce the idea that the youth of today are powerless against the injustices they experience and observe in the world.
I love all of the examples — both historical and contemporary — that were given to tell the story of how young people are leaders. It is also a very good reminder that teaching a full story is always better than teaching a moment.
I need to look for youth activists in the struggles I already cover. After hearing this, I'm sure that they are there. Then I need to pull those struggles through to today, even if briefly.
The most important thing I took away was actually knowing that there are so many other educators working towards the same goal with what resources we have!
This highlighted the need to make sure I am including ways for students to feel empowered even within my own classroom. It makes me want to push my own practice further and make sure students can have the space to advocate for themselves daily rather than at the end of the semester. Therefore, they know they can have their voices heard and they do have power.
It was so helpful to be reminded that struggle is a struggle and that young people have so often been leaders of change. Would be great to talk more with folks about how grown-ups can both support and get out of the way.
Two things: The first is Dr. Theoharris' point that many adults were in fact NOT on board with student activism or their methods during the Civil Rights era, and that despite this, students and young people organized and worked for change. This makes me really re-think how educators and adults guide/support youth activism today. The second takeaway was the way that CORE and SNCC had to collaborate to make the freedom rides successful — that adults would start out this project, but when faced with incredible violence, students would pick up the baton despite the known dangers is such a powerful story. Also, Jesse Hagopian facilitated the conversation masterfully, and I LOVED hearing from not just Jeanne Theoharris, but also Karma and Jaedon. Seamless transition from whole group to/from breakouts. Fantastic online session!
I think it worked really, really well. The balance of this critical history and hearing the voices of youth in the struggle today was perfect. Dr. Theoharris and Mr. Hagopian do such an amazing job of making history come alive and help us see how to share these important stories with our students. I also appreciated the opportunity to connect in the breakout, especially as I was lucky enough to be placed in a breakout with three young people and learn from them. (Shout out to Miles, Jessica, and Quinn!)
One of the most interesting things that I learned about today was how Northern and Western cities fed into the myth that Black and Latino students were inferior in school. They used this myth to perpetuate the inequities that existed between minority schools and white schools.
The entire conversation was a great reminder to include young people's actions as part of the CRM and not as something separate or only briefly touched on. Their history is our history and should be included in the movement at large not as a side note.
One important thing I learned today was how voices of youth have been historically silenced, even within the activist community. However, these same youth have ignored this critique and brought about meaningful change anyways. I plan to share this idea and the example of youth activism with my middle school students over the course of the next two weeks. I will do this as a way to provide historical examples of youth activism as they begin choosing independent projects to work on in our PBL classroom. This is exactly what I needed and the timing could not have been more relevant. I look forward to the next mini-course!
I loved the breakout sessions, it was a great way to require connections in a time when we are craving them. I liked the author's speaking session in the beginning which provided a good overview and enriched the later sessions. My favorite part was hearing from today's youth, both in the panel and breakout sessions. I didn't expect to see students in the chat and it was a great surprise! I will recommend that my students join the next mini-class.
This was an incredible session. It was informative and invigorating. I am looking forward to many more. Thank you for making this accessible.
I appreciate you all! Thank you for doing such important work! I hope that even after physical distancing is over, you will still offer these opportunities. It was really great to be in a breakout group with people with such different experiences and from all over the world.
Resources
Here are some of the resources shared by the presenters and also by participants in the chat box.
The Girl from the Tar Paper School: Barbara Rose Johns and the Advent of the Civil Rights Movement by Teri Kanefield.

Illustrated book about teenager Barbara Rose Johns, who led a student walk out to protest substandard conditions at a Virginia high school in 1951.

Mighty Times: The Children's March

This student friendly documentary from Teaching Tolerance tells the story of how the young people of Birmingham braved arrest, fire hoses, and police dogs in 1963 to end segregation.

And the Youth Shall Lead Us: Stories about Young People on the Frontlines of Social Movements Throughout U.S. History.

A compilation of stories by Teaching for Change of young activists from throughout U.S. history.

An online collection of historical materials, profiles, a timeline,  a map, and stories on SNCC's voting rights organizing. Many of the profiles feature stories about teen activists.

Renee Gokey from the National Museum of the American Indian (NMAI) participated in the session and shared a story in the chat box of a young Native American activist who challenged school segregation before Brown v. Board. She was  Alice Piper (June 7, 1908 – August 22, 1985), a Paiute (Nüümü) girl residing in Big Pine, California, who petitioned to attend the newly built Big Pine High School in 1923 and was denied entry due to her race. At that time, California educational law prohibited Native American children from attending a public school if a separate government run Indian school was established within three miles of the public school. Piper, along with six other Indian children, sued the district for the right to attend. [Renee Gokey also shared the key resource, Native Knowledge 360. Another child who, along with her family, challenged school segregation is Syliva Mendez.]