On March 16, 2022, about 50 South Carolina teachers participated in the first state-based workshop on the release of the national report, Erasing the Black Freedom Struggle: How State Standards Fail to Teach the Truth About Reconstruction. It was hosted by the Penn Center, the Zinn Education Project, and the International African American Museum.
During the interactive session, educators examined the report findings, learned about Hastings Gantt (who donated land during Reconstruction for the Penn School), and discussed approaches to teaching Reconstruction with fellow South Carolina educators. One participant noted,
This workshop affirmed the importance of emphasizing Black agency during Reconstruction. Hastings Gantt, once lost to history, serves as a powerful example of this. Learning about individuals (by name) humanizes the Reconstruction experience, making it more meaningful and lasting learning for our students.
Here are some resources on Reconstruction in South Carolina shared in the workshop.
Penn Center
Deloris Pringle, chair of the historic Penn Center Board of Trustees, provided a brief description of the Penn Center and welcomed teachers to bring their students. (The chat filled with rave reviews from participants who had already been to the Penn Center and planned to return.)
As is noted on the Penn Center website,
The campus of the former Penn School, located on St. Helena Island, is one of the nation's first schools for formerly enslaved people and one of the most significant African American institutions in existence today. This historic and cultural institution is a National Historic Landmark District and comprises two of the four sites in Reconstruction Era National Park.
Reconstruction Report Findings
Report co-author Mimi Eisen shared key findings from the national report and the South Carolina state assessment, which includes an analysis of the standards and insights from teachers.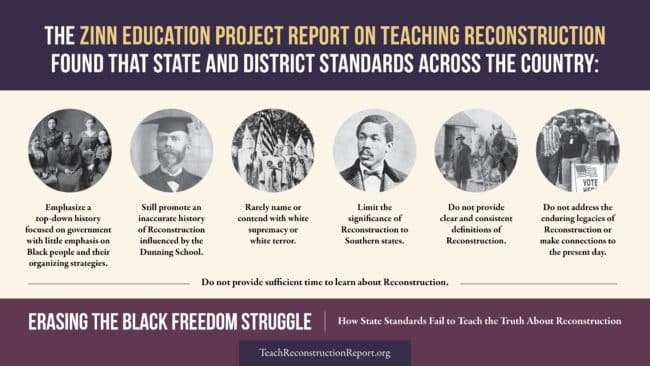 Hastings Gantt
One of the key findings was that most standards on Reconstruction emphasize a top-down history with little emphasis on Black people and their organizing strategies.
This is true for South Carolina where at best students learn about the heroic efforts of Robert Smalls. To ensure that Smalls is not presented in isolation, workshop participants were introduced to the life and work of Hastings Gantt,  who donated the land for the Penn School during Reconstruction. The Penn Center, with the help of Urshula Barbour and Paul Carlos of Pure+Applied, is researching Hastings Gantt. While buildings and forums are named for him, little about his life has been documented until now. Barbour shared some preliminary findings. These photos and documents, along with many more, will be available soon at the Penn Center website.
Recommend Standards
Ursula Wolfe-Rocca from the Zinn Education Project shared the recommended standards from the Reconstruction report. She invited participants to consider which standards could be addressed by learning about Hastings Gantt.
Participants then discussed in small groups how they might weave Gantt's story into the curriculum, especially considering the constraints on teaching about Reconstruction at all.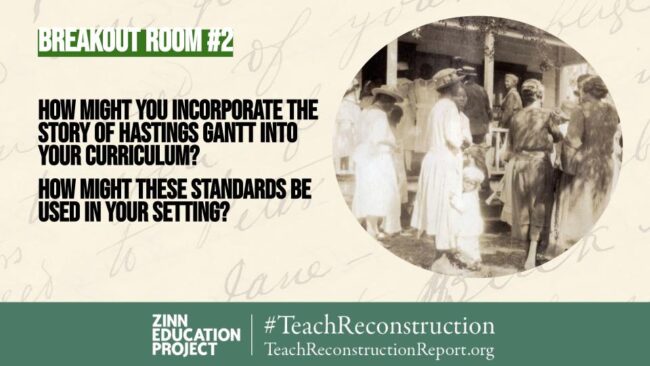 Lesson, Books, Films, Podcasts, and Classes on Reconstruction
The Erasing the Black Freedom Struggle: How State Standards Fail to Teach the Truth About Reconstruction report includes a section on resources for teaching about Reconstruction.

Three books specific to South Carolina are:
Black Over White: Negro Political Leadership in South Carolina During Reconstruction by Thomas Holt
Invisible No More: The African American Experience at the University of South Carolina edited by Robert Greene and Tyler D. Parry
Rehearsal for Reconstruction: The Port Royal Experiment by Willie Lee Rose
However, almost all the books on this list about Reconstruction include South Carolina given the central role of the state.
Another place to learn more is the Modjeska Simkins School. Named after legendary human rights activist Modjeska Monteith Simkins, the school offers free classes on South Carolina history.
Events in South Carolina Reconstruction History
This short list of events in South Carolina's Reconstruction history is from the Zinn Education Project This Day in History collection. We welcome your suggestions for more.
Feb. 1865 Black Soldiers March into Charleston
The Union Army moved into Charleston, the city where the Civil War had begun four years earlier.
April 1866 Freedmen Demand Equal Medical Treatment
William Beverly Nash and several others asked the federal government to intervene to ensure equal medical treatment for all.
March 1867 Staged Ride-ins in South Carolina Streetcars
Staged ride-ins during Reconstruction in South Carolina were among the first (recorded) organized protests of segregation on a streetcar.
Jan. 1868 South Carolina Constitutional Convention
The South Carolina constitutional convention met with a majority of Black delegates, adopting a constitution that provided for all people regardless of race, economic class, or gender.
Dec. 1870 Joseph H. Rainey First African-American in U.S. House of Representatives
Joseph H. Rainey, from South Carolina, was the first African-American to serve in the U.S. House of Representatives.
Nov. 1874 Robert Smalls Elected
Robert Smalls was elected to Congress from South Carolina during Reconstruction.
A Black militia was accused of blocking a road and punished with the Hamburg Massacre. This was Reconstruction era voter suppression.
Sept. 1895 South Carolina Constitutional Convention Convened
The South Carolina Constitutional Convention convened to disenfranchise Black voters.
Share Your Story and/or Host a Workshop
Let us know if your school district or organization is interested in hosting a workshop on the Reconstruction report. We'd be happy to collaborate. (Email zep@zinnedproject.org)
In addition, we welcome your stories on teaching about the report or any of the resources we recommend on Reconstruction. In appreciation, we can send you a chapter book set during the Reconstruction era, donated by author Jewell Parker-Rhodes in support of the campaign.