On May 10, 1886, Lee Yick won a Supreme Court case that said that all people — citizens and non-citizens — had equal protection under the law.
Lee Yick and Wo Lee, Chinese immigrants, ran laundries in San Francisco. In 1880, San Francisco passed a law requiring a permit for laundries housed in wooden buildings as they were more vulnerable to fires. Of the 320 laundries in San Francisco, 310 were in wooden buildings, and most of them — 240 — were owned by Chinese persons. Not one Chinese laundry applicant was issued a permit.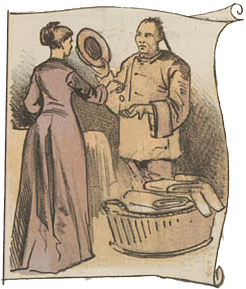 When Sheriff Hopkins tried to arrest Yick and Lee for not having a permit, they refused to pay the $10 fine, and were jailed. Each sued, arguing that the fine and discriminatory enforcement of the ordinance violated their rights under the Equal Protection Clause of the Fourteenth Amendment. Their case, compiled under the name Yick Wo v. Hopkins, was argued at the Supreme Court in 1886 (Yick Wo was the name of the laundry that Lee Yick worked at).
In an unanimous opinion authored by Justice T. Stanley Matthews, the court concluded that, despite the impartial wording of the law, its biased enforcement violated the Equal Protection Clause. According to the court, even if the law is impartial on its face, "if it is applied and administered by public authority with an evil eye and an unequal hand."
The kind of biased enforcement experienced by the plaintiffs, the court concluded, amounted to "a practical denial by the state of that equal protection of the law" and therefore violated the provision of the Fourteenth Amendment. [Adapted from PBS's "The Strange Case of the Chinese Laundry," and  Oyez.org.]
The application of the ruling was a different story, since it was followed just a decade later by Plessy v. Ferguson.