On September 6, 2017 the U.S. Virgin Islands were struck by a Category 5 hurricane that destroyed much of St. Thomas and St. John. Both islands suffered significant structural damage and people died due to the hurricane.
In the same month, the U.S. Virgin Islands were hit again by Hurricane Maria, another Category 5 hurricane.
Hurricane Maria destroyed the remainder of the islands.
Democracy Now! featured an interview on September 17, 2017 with award-winning poet and novelist Tiphanie Yanique of Saint Thomas.  The segment is called, "The Forgotten Americans: Why Did U.S. Media Ignore U.S. Virgin Islands Devastated by Irma?"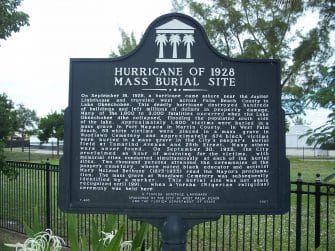 Also on this day in history, Hurricane Okeechobee was a powerful hurricane that hit Puerto Rico, the Bahamas, and the United States in September of 1928. It first started forming on September 6, 1928. When the hurricane hit Puerto Rico it was a category 5 hurricane. It is considered in the top ten most powerful hurricanes to landfall in the United States.
The hurricane also breeched the dike surrounding Lake Okeechobee in South Florida causing hundreds of miles of flooding. Over 4,000 people are known to have died due to the hurricane.
Hurricane Okeechobee plays a prominent role in Zora Neale Hurston's novel Their Eyes Were Watching God.
Find resources below to teach about climate justice.
---
This event is included on the Zinn Education Project's Climate Crisis Timeline.