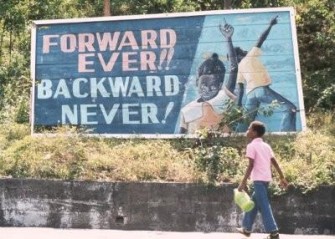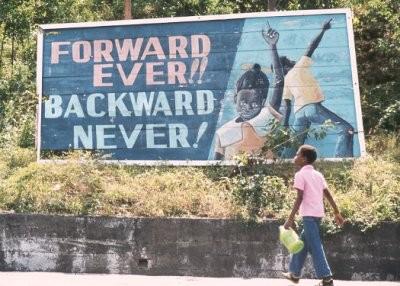 On March 13, 1979, Grenada's prime minister Eric Gairy was ousted in a coup organized by the New Jewel Movement and led by Maurice Bishop. Bishop was installed as prime minister of the newly established People's Revolutionary Government. Bill Bigelow describes in Grenada: 'A Lovely Little War':
 In 1979, the socialist New Jewel Movement had overthrown the corrupt and unpopular dictator Eric Gairy in an almost bloodless coup. For years, Gairy ruled through fear. His secret police, the "Mongoose Gang," had been supplied by the U.S.-backed Pinochet dictatorship in Chile. The revolution launched by the New Jewel Movement — the "Revo," as it was affectionately dubbed — was immensely popular.
By 1982, when I first visited the island, a literacy campaign was under way, new schools had been built, and unemployed youth in the countryside benefited from new agricultural cooperatives. Grenada welcomed Cuban aid: teachers, health professionals, and construction workers on the new international airport who aimed to replace the antiquated and dangerous airstrip up in the mountains.
In just four years, unemployment was cut from 49 percent to 14 percent. Instead of advertising cigarettes and booze, colorful billboards throughout the island promoted education: "Each One Teach One," "If You Know, Teach; If You Don't, Learn," and "Education Is Production, Too."
Below are resources for teaching about the Grenada Revolution, including a video clip of Bishop speaking at Hunter College in New York about how and why the State Department portrayed Grenada as a threat. The clip is followed by a documentary about the advances of the revolution in Grenada.
The Grenada Revolution Documentary – Part 1 from gov.gd on Vimeo.
The Grenada Revolution Documentary – Part 2 from gov.gd on Vimeo.
| | |
| --- | --- |
| | Democracy Now! interview with Don Rojas, the former press secretary for President Maurice Bishop of Grenada from 1981-1983. Before that he was the editor in chief of Grenada's national newspaper The Free West Indian. When U.S. Marines invaded Grenada in 1983, he was deported by the U.S. military to Barbados. He later became the general manager of Pacifica station WBAI in New York. From the Democracy Now! archives, June, 2004. |
| | This American Life: Trickle Down History: Reporter Starlee Kine observes what would have happened if the U.S.-led invasion of Grenada in 1983 had been decided not by Ronald Reagan, but by a bunch of middle schoolers…and she remembers a class trip to the Nixon library, where Nixon aide HR Haldeman spoke. 20 minute segment of 424: Kid Politics, January, 2011. |
| | 1984 – Grenada: The Future Coming Towards Us. The filming was completed shortly before the tragedies of October 1983 in this work produced by the Caribbean Research Institute. This documentary on the Grenadian Revolution traces Grenada's early history, analyzes the impact of European colonialism and explain the evolution of modern Grenadian society. It includes footage of Grenadians Maurice Bishop, Caldwell Taylor, Dessima Williams, Valerie Cornwall, Candia Alleyne, Bernard Coard, Phyllis Coard, Fitzroy Bain, George Nurse, Brian Beggs, Claudette Pitt, Dorcas Braveboy, among others. John Douglas produced, filmed and edited the full-color work, and was producer along with Carmen Ashurst. Vinie Burroughs is the narrator of this 55-minute film. |