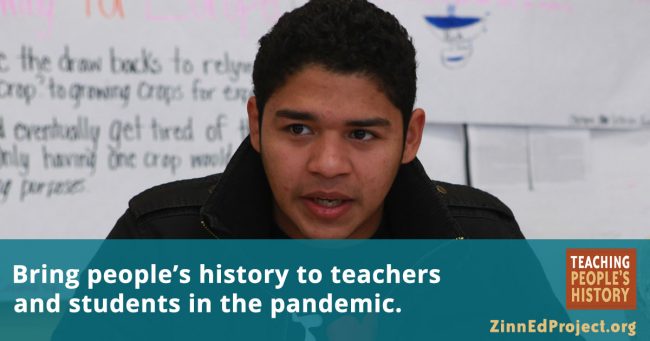 We need your help. Just weeks into the pandemic, in collaboration with historian Jeanne Theoharis, we launched the People's Historians Online mini-classes for teachers and students in search of meaningful, remote learning opportunities. (We also compiled lessons, films, and other resources for teaching in the pandemic.)
The good news is that the People's Historians Online series has been rewarding and popular.
Teachers have learned that the Civil Rights Movement was also in the North, that Rosa Parks' life of activism spanned decades before and after her stance on the bus, that women played a major role in the Black Panther Party, and more. It is not just new information, but a whole shift in understanding core narratives in U.S. history that teachers can now bring to their students.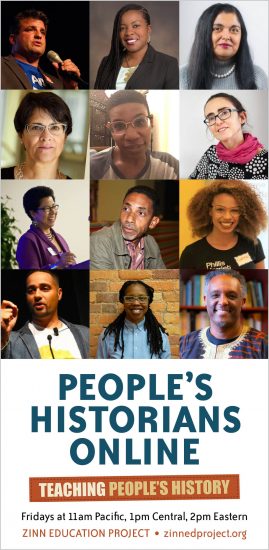 Here are just a few of the hundreds of comments we received:
Thank you for getting us together and giving me hope that we are not alone, and that we can think and act ourselves out of this pandemic.
Phenomenal series so far. Even more important during our current situation, as people are engaged and able to see each other. I've been here every Friday and look forward to these talks.
I hope that even after physical distancing is over, you will still offer these opportunities. It was really great to be in a breakout group with people with such different experiences and from all over the world.
These sessions have been monumental in expanding my history knowledge that I can bring into my classroom and teaching.
I loved that even as a kindergarten teacher I could take the history from the session to think about how much more I still need to learn and what it could look like with my tiny people.
Now, the challenge. As the pandemic continues, the demand for the series grows. The historians donate their time. However, we need funding for the preparation, outreach, hosting platform, and follow-up. Hundreds of teachers participate each week and the word is spreading.
We need your help so that more teachers can learn and teach people's history. Will you be one of 50 people to donate at least $50? We will acknowledge you on a page of People's Historians Online series sponsors. (Unless you'd prefer to be anonymous.)
Thank you for ensuring the next generation learns the history they need to be informed and active participants in making the world a better place.