Did you know that the biggest civil rights demonstration of the 1960s
happened in New York City?
Did you know that at the same time people were pressing for desegregation in Montgomery and Birmingham, they were doing so in Los Angeles, Milwaukee, and Boston?
Participants learned about these stories and more in our Zinn Education Project People's Historians Online mini-class on the Civil Rights Movement in the North on April 17.
This was the third in our series on the Black Freedom Struggle: From Reconstruction to the Civil Rights Movement. Author Jeanne Theoharis provided the history lesson, in conversation with Rethinking Schools editor Jesse Hagopian.
About 120 teachers, union activists, and students joined the class from around the United States. The chat box buzzed with conversations and questions about the hidden history of the Civil Rights Movement in their respective communities, including Milwaukee, Los Angeles, Pittsburgh, Chicago, and New York.
Highlights
One participant wrote,
This completely changed how I think about the Civil Rights Movement. I grew up in New York, went to college in New York, and now teach in New York, and until I read today's texts and listened to the discussion, I didn't know about the New York City boycott or others.
Another participant, Sherrill Knezel, turned her notes into a beautiful graphic summary of the session.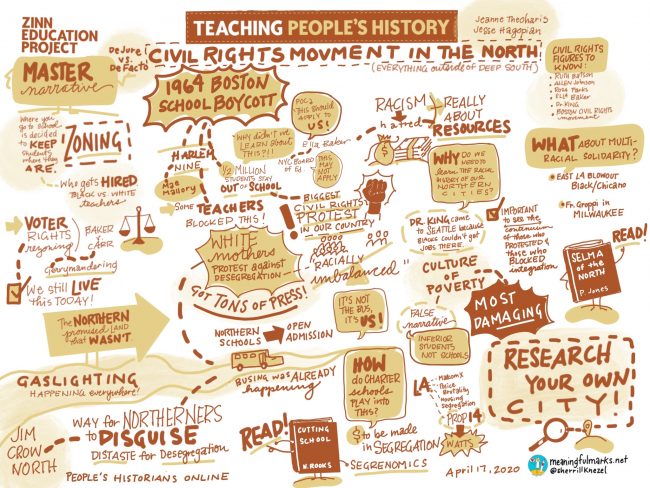 Participants shared more insights and teaching ideas from the session.
Many things stood out to me! One quote that I appreciated from early on was "God doesn't draw those lines, they are created by government officials. They can be redrawn." And the many systems that are created (and therefore possible to recreate) connecting education and political systems.
Before this series, I did not know that the largest civil rights protest in U.S. history was in 1964 related to school segregation and education equity issues! I always thought it was the Great March on Washington. . . I will find out more and teach this in the future.
There was so much good content, but one specific activity that I thought of based on Theoharis's talk was having students look at side-by-side comparisons of articles from the same journalist covering the Civil Rights Movement in the South vs. in the journalist's home town.
I hadn't known much about Ella Baker and the 1964 New York City protest. Now I am looking forward to how I can incorporate it. I help with the teacher materials for the Minnesota National History Day, including identifying topics students can consider for each year's theme. I am DEFINITELY going to get that in there.
Jesse Hagopian wrapped up the session with an invitation to research the Civil Rights Movement in participants' own cities. Based on the enthusiastic response, we expect that will happen. To begin that research, participants can draw on many of the resources shared during the session, including those listed below.​
Resources
Books

The Strange Careers of the Jim Crow North: Segregation and Struggle Outside of the South edited by Brian Purnell and Jeanne Theoharis with Komozi Woodard

The Selma of the North Civil Rights: Insurgency in Milwaukee by Patrick D. Jones

Cutting School: The Segrenomics of American Education by Noliwe Rooks

Reds at the Blackboard: Communism, Civil Rights, and the New York City Teachers Union by Clarence Taylor

See also: Lessons from the Heartland: A Turbulent Half-Century of Public Education in an Iconic American City by Barbara Miner

Lessons

"Teaching the 1964 New York City School Boycott" by Adam Sanchez

"How Red Lines Built White Wealth: A Lesson on Housing Segregation in the 20th Century" by Ursula Wolfe-Rocca

Articles

"Rethinking 'Busing' in Boston" by Matthew Delmont (Smithsonian Magazine, December 27, 2016)

"Mexican Americans in Southern Colorado Fought One of the Nation's Early School Desegregation Battles" by Erica Meltzer (Chalkbeat, February 24, 2020)

"What Happened to the Civil Rights Movement After 1965? Don't Ask Your Textbook" by Adam Sanchez (Zinn Education Project, June, 14, 2016)

Court Cases

Keyes v. School District No. 1, Denver, Colorado

People and Groups

Mae Mallory and the Harlem Nine

Rosa Parks in the "Northern promised land, that wasn't"

Films

Segregated by Design An animated 18-minute documentary of how the federal, state and local governments unconstitutionally segregated every major U.S. metropolitan area through law and policy.

Walkout The true story of the Chicano students of East L.A., who in 1968 staged several dramatic walkouts in their high schools to protest academic prejudice and dire school conditions.

'63 Boycott In 1963, 250,000 students boycotted the Chicago Public Schools to protest racial segregation.

Podcasts

School Colors A narrative podcast that focuses on the story of Ocean Hill-Brownsville in Brooklyn, where "Black and Puerto Rican parents tried to exercise power over their schools and they collided headfirst with the teachers' union — leading to the longest teachers' strike in U.S. history."
---
Video
Watch a full recording of the public portions of the session.

---
Please consider making a donation so that we can continue to offer people's history lessons, resources, workshops — and now online mini-classes — for free to K–12 teachers and students. We receive no corporate support and depend on individuals like you.
---
Sign up for the next session, Peoples Historians Online: Student Nonviolent Coordinating Committee, on April 24.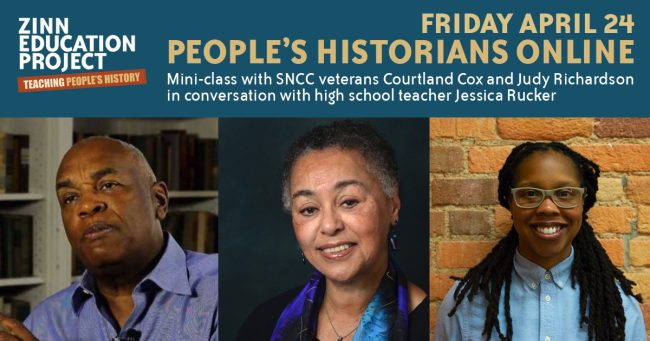 ---