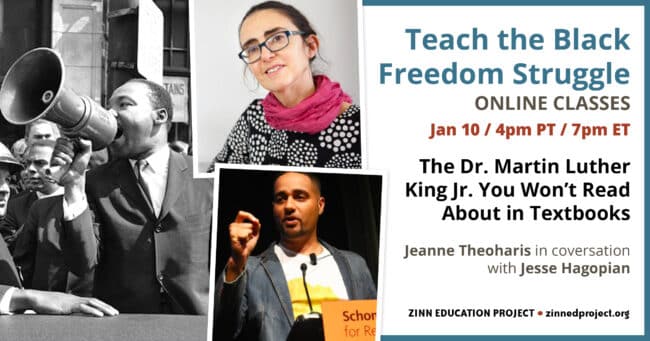 On January 10, the Zinn Education Project hosted historian Jeanne Theoharis in conversation with Jesse Hagopian about the Dr. Martin Luther King Jr. that is not found in textbooks and school curricula. This was for the Teach the Black Freedom Struggle series of classes with people's historians.
As Theoharis notes in an article in The Atlantic, "Critics of Black Lives Matter have held up King as a foil to the movement's criticisms of law enforcement, but those are views that King himself shared. Martin Luther King Jr. proclaimed, 'We can never be satisfied as long as the Negro is the victim of the unspeakable horrors of police brutality.' King understood that police brutality — like segregation — wasn't just a southern problem."
Here are a few reactions from participants:
My instruction is now more informed with truth and I am able to provide a broader context for his work.  
Dr. Theoharis' scholarship helps me understand civil rights history in a way that I was never taught. Thank you.
I learned that Dr. King's public persona was definitely white-washed to make him more acceptable to the white audience and less intimidating, as well.
Jeanne Theoharis had the presence of mind to ground us in the difficulties of the struggle today for educators. Jesse Hagopian followed suit and signified how hard the work is at this moment in these grim conditions.
Thanks so much. This community means a great deal to me. The ideas embolden my political imagination and offer succor. I also just love seeing people who are in the struggle for radical education.
Video
Video of the full event, except the breakout sessions.

---
Audio
Listen to the recording of the session on these additional platforms.
---
Resources
Here are many of the lessons, books, articles, videos, and more recommended by the presenters and also by participants. We start off with a cartoon reprinted here by permission of artist Barry Deutsch.
Lessons and Curricula
Related Books
Related Articles
Videos
This Day In History
Participant Reflections
What was the most important thing (story, idea) you learned today?
Dr. King was a dynamic learner and strategist who was in deep relationship with others in movements, including global peace movements, economic justice movements. He was just as concerned about northern liberals not addressing racism where they live. At the time of his death, he was a radical and 2/3 of the American public did not approve of him. He believed in social democracy and fought against racism, militarism, and poverty. He was a disruptor who made it his business to make people uncomfortable. Before his assassination, he lived under the constant threat of death.
How King was very critical of northern liberals and how this is not often talked about or taught.
The South was often used as a Proxy for the North so the North didn't have to address racism. King saw capitalism as a problem for Civil Rights. The media plays both sides of MLK to shape how we see him (i.e. the North's media shine light on the segregation of the South but not on the North).
That MLK was more radical than commonly taught and that he recognized the racism of the North.
How many times King was arrested and the torment he went through. It reminded me of today's times and how little Black lives are valued by police. The fact that this side of MLK's history is so relevant today, it holds so much power to inspire the youth. As a 22-year-old educator of color, I am determined to make a change and teach his truth. A quote from tonight — King expressed it is "not true that America is progressing towards justice."

The storytelling of MLK and Coretta Scott King driving the international side of expanding civil rights.

MLK was very involved in Northern racial politics and this has been simplified in our textbooks as a Southern issue. King was widely unpopular and criticized in the 60s.

Dr. King was always learning, growing, and developing his political theory and tactics. He was not suddenly radicalized by Watts, but rather saw it as an opportunity to expand his public political analysis!
What will you do with what you learned?
This will inspire me to focus more on King's effective radicalism and how his work was not so much focused only on racism in the South.

Incorporating more of Rev. Dr. MLK Jr.'s writings and primary documents into class and lessons in order for students to understand his ideas beyond the surface of what they have learned previously. Discussing the more complex history of the Civil Rights Movement, the role of the media, etc.

Educate, organize, agitate.

I'm going to use this information to guide my own research, temper my education, and enhance my own eventual lessons in the classroom.

I have more resources to #TeachTruth and share with students to query our course materials and always question the narrative.

Keep using King to speak back to what is happening today. What would King do? "Reclaim" King, if you will.

First, I want to purchase Dr. Theoharis' book. I went online and purchased the book on the misuse of civil rights history. I now have some language to talk to students about other sides of MLK that they never hear.

I teach Dr. King using ZEP resources and will continue to do so, armed with even more background knowledge!

I am a literacy teacher, a yoga teacher, and a white women's caucus participant/sometimes leader. This is important for me to prevent white women in my working groups across these different jobs from "fluffing up" the conversation around MLK — myself included — and being able to sit in the discomfort that will inevitably arise. I loved Professor Theoharis's suggestion to read King on MLK Day. Read his actual works. I'm definitely on board with that.
Additional comments
Engaging and informative.
Dr. Theoharis is such a knowledgeable and expressive speaker, I've been so excited for her classes with this project and thoroughly enjoyed reading her work.  And Jesse Hagopian continues to lead with questions that inspire the best from speakers and thoughtful citations of their work.  I'd also like to shout out to my small group from this session, well facilitated by Julita and with a cross-section of educators from in-school to retired and teaching across the nation. I really appreciated hearing from each member of this group.

Thank you for organizing this. We need this so much!! It is both intellectual and psychological. We have been under so much assault!

I now have even greater respect for this man's brilliance and commitment to humanity!
I was on Dr. King's staff in Chicago in 1965-66 and co-edited a book on the Chicago Freedom Movement. I really appreciate your efforts to put his Chicago work in the context of his earlier concerns about the North — and reminding us that he had spent six years in the North before Montgomery. The internal colonialism perspective was strong with all of us in Chicago; that was where I first encountered this perspective (I was 22). I'm also really interested in how we can connect his work to the Black Lives Matter movement and related issues today.
This is an awesome organization. I am sharing this information with my team. Teaching truth is what matters.
Presenters
Jeanne Theoharis is a distinguished professor at Brooklyn College. She is the author or co-author of nine books and numerous articles on the Civil Rights and Black Power movements and the politics of race and education. Her books include the award-winning titles The Rebellious Life of Mrs. Rosa Parks and A More Beautiful and Terrible History: The Uses and Misuses of Civil Rights History.

Jesse Hagopian teaches Ethnic Studies and is the co-adviser to the Black Student Union at Garfield High School in Seattle. He is an editor for Rethinking Schools, the co-editor of Teaching for Black Lives, and editor of More Than a Score: The New Uprising Against High-Stakes Testing.