People's history was made on December 6 when Sen. Raphael Warnock was re-elected to the U.S. Senate — thanks to a grassroots organizing campaign that likely involved many of you. In the history of the U.S. Senate, out of more than 2,000 senators, only 11 have been African American.
As you know, Georgia is rich in people's history:
— In our report on Reconstruction standards, Erasing the Black Freedom Struggle, we note that following the Civil War, Harriet Jacobs, author of Incidents in the Life of a Slave Girl, began multiple Freedmen's Schools in Georgia with her daughter Louisa, where hundreds of formerly enslaved children were educated.
— In the 1960s, Atlanta was home to the main offices of the Student Non-Violent Coordinating Committee (SNCC), which led so much civil rights activism throughout the South and helped get Julian Bond elected and seated.
— In the 1880s, the Knights of Labor organized thousands of workers throughout Georgia; they organized telegraphers, textile workers, farm workers, and typographers, and led a successful boycott against the Atlanta Constitution.
— Find more Georgia events on our This Day in History timeline.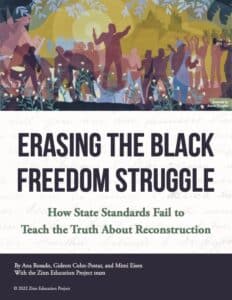 On the occasion of this election victory, we'd love to hear from you. What people's history lessons do you use? What resistance (if any) do you face?
In appreciation for your comments, we'll send you copies of the New York Times 1619 Project booklet and our report on teaching Reconstruction, Erasing the Black Freedom Struggle.
We will keep your responses confidential unless you give us permission to share them.
Let's continue to teach — and to make! — people's history.
Share Your Story